New Youth Ministry Coordinators have been inducted into their roles including Sydney Catholic Schools' first primary school-based Youth Ministry Coordinator.
All 16 Youth Ministry Coordinators (YMCs) were formally inducted during an Archdiocesan meeting involving secondary Religious Education Coordinators (RECs) and Youth Ministry Coordinators at Waterview, Bicentennial Park, on Friday 25 February.
"It was really exciting to have all our new RECs and YMCs together in one place," SCS' Educator Officer: Church Engagement, Cheryl Fernandez, said.
"They're all really eager and excited to start in their new roles."
Our new Youth Ministry Coordinators are: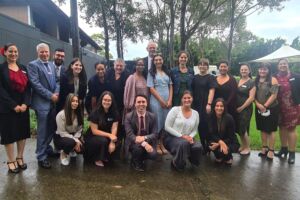 MEET OUR YOUTH MINISTRY COORDINATORS
Cecilia Chatelier is transitioning to her new leadership role after seven years working as a teacher at Marist Catholic College North Shore, St Mary's Campus.
Affectionately known as Liz, she is uniquely placed as Sydney Catholic Schools' first primary school-based YMC following the combining of her school, St Mary's Catholic Primary School, with Marist College North Shore into a single Kindergarten to Year 12 co-educational school in 2021.
"It's strange but exciting; I'm really looking forward to it," Liz, who is also a PDHPE/Wellbeing Coordinator at Marist St Mary's Campus, said.
"I really want to forge forward with music and drama and use that as a vehicle to get the children and their families more involved in their faith."
Click here to read more about her youth ministry journey.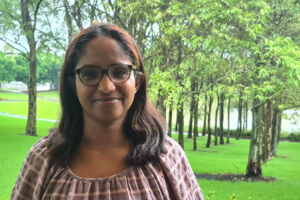 French and Religious Education teacher, Joëlle L'Aiguille is also looking forward to putting her stamp on the role in her school, Mary MacKillop Catholic College Wakeley.
Joëlle has been a teacher for 16 years and joined Mary MacKillop a year ago after arriving in Australia from Mauritius, where she first became involved in youth ministry.
"I think youth ministry made me the teacher, human being and Catholic that I am today," Joëlle said. 
SCHOOL YOUTH MINISTRY
Traditionally, there is a Youth Ministry Coordinator (YMC) in every Archdiocesan secondary school.
YMCs are teachers within their school who've been appointed to their positions of leadership. They work with the schools' RECs and other staff to engage students in faith-filled activities within the school.
These school based activities may include:
Organising and leading prayer opportunities in classes and in the school

Developing opportunities for students to use their gifts and talents in Music Ministry or to become Extraordinary Ministers of Holy Communion

Supporting Catechists to teach state school students how to pray with Christ

Supporting Deanery Youth Groups across the Archdiocese of Sydney

Supporting the catechumenal journey – or Rite of Christian Initiation of Adults (RCIA) process – of students seeking to become Catholics

Taking part in programs that teach students what it truly means to live faithfully and act justly, by helping people in our community living in poverty and disadvantage. 
Qualities needed in a Youth Ministry Coordinator are: deep, genuine faith; a willingness to serve; a real 'yes' attitude; and a passion to evangelise, and promote a welcoming, vibrant faith community.
BY: ISABELL PETRINIC