The St Mary's Catholic Primary School Georges Hall community has held true to the famous words of their patron, Saint Mary-Mackillop, to support flood relief efforts in NSW.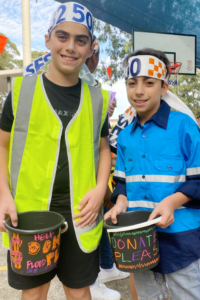 Students, parents and staff hosted activities on 18 February to raise $6,744 for the St Vincent De Paul Flood Appeal.
Principal Monica Palmer said the school's motto of 'Never see a need without doing something about it' made prayer and outreach in times of crisis –  like the recent floods – essential.
NSW State Emergency Services (SES) volunteers also spoke to students on the day about how they help people as the state's lead agency in the response to floods and storms.
"There is a great deal of media about the struggles our fellow humans have endured during the flood crisis," she said.
 "The SES were a highlight and so inspiring.
"Our kids could be the next generation of volunteers."
Fun and giving 
The school's Year 6 leaders organised games including an egg-and-spoon race, sand bag toss, guessing competitions, soccer shoot-outs, and skipping challenges to support the fundraiser.
Parents also ran a cake stall and students gave a gold coin donation to dress up on the appeal day.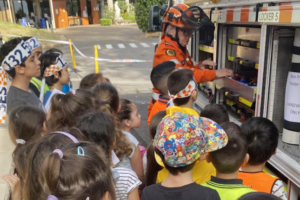 Awareness breeds compassion
With its proximity to the Georges River, the school community is no stranger to flood water cutting off access to the school on occasion. The school recently closed for a day as many teachers and families were stranded at home.
Many of the students have also read Jackie French book Flood, a moving story of a natural disaster seen through the eyes of a cattle dog that has been separated from his family.
School values inspire giving
Alongside their Mary Mackillop-inspired school motto, St Mary's student leaders hold values based portfolios. They are tasked with finding ways to show faith, kindness, generosity, stewardship, wisdom and hospitality at school and beyond.
"It was time we planned another event to help others" – Monica Palmer
Ms Palmer said the flood appeal highlighted the "compassionate hearts" in the St Mary's community and was a way to honour the school's almsgiving this Lent.
The fundraiser is the second of its kind the school has held.
It contributed more than $7,000 to drought relief charity Aussie Farmers in 2018.