"Sport is a key element of a cohesive and thriving community. It is a tool for achieving outcomes in areas such as education, health, leadership development and fair play, and is unrivalled in its ability to link heart, mind and body, to connect individuals and to inspire communities." (Sport Australia)
SPORT AT SYDNEY CATHOLIC SCHOOLS
At Sydney Catholic Schools, we have a strong belief that sport is for everybody, not just for the elite athlete. We offer an inclusive variety of sports for students to enjoy in both competitive and non-competitive settings. These sports opportunities are open to all students, of all ages and abilities.
Sydney Catholic Schools has a long history of delivering Sport to students dating back to 1908. Up until 2021, Sydney Catholic Schools' secondary colleges have been members of nine sporting associations and our primary schools have belonged to four sport councils. We would like to acknowledge the sport associations and sport councils for their service to providing student opportunities in sport for all our students.
Our sport structure
Our students are given the opportunity to participate in sports against other schools in the Archdiocese of Sydney, as well as, in some competitions against other schools across New South Wales. Talented students are provided with the opportunity to trial for higher level representation that may then lead to state and national competitions. These representative pathways ensure that students with talent are identified and offered the opportunity to enhance their ability through development camps, further training and competition.
Representative Pathways
All eligible students have access to the NSW Catholic Schools Pathways to Sport Representation. Further information about this can be found at the CSNSW website.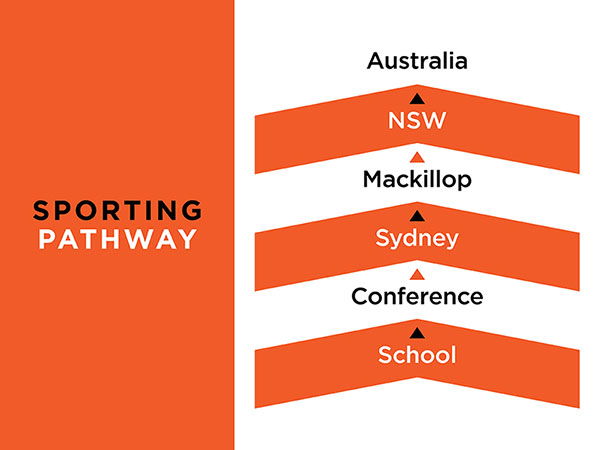 Opportunities in Sport for students with a disability
Students of all ability levels are encouraged to get involved in Sport at Sydney Catholic Schools, from participation to representative activities.
If an athlete wishes to compete at a representative level, they will need to gain classification through the appropriate sporting organisation.
Representation is open to all students, aged between eight and nineteen years of age. It offers students the opportunity to compete and progress from a school level through to national competition, commensurate with their ability.
For more detailed information please get in contact with our dedicated Students with Disability Officer. Anna Turnbull, via email – annakate.turnbull@syd.catholic.edu.au – or phone – 0417 243 033. Alternatively, contact your local Sydney Catholic school.