Sydney Catholic Schools (SCS) today launched the Amadeus Music Education Program – one of the biggest, most comprehensive and ambitious investments in quality music education ever undertaken in Sydney's schools.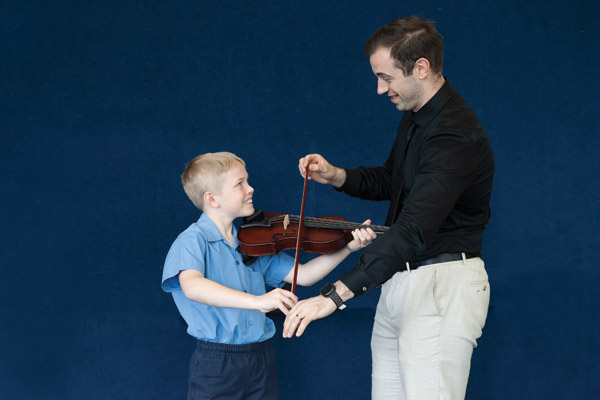 This game changing program is being rolled out to 33,000 students across SCS's network of 150 primary and secondary schools.
The Amadeus Music Education Program provides students with classroom music lessons, ensemble lessons and small group tuition and will be led by more than 80 school classroom music teachers and 270 specialist music tutors.
These music tutors will bring professional experience from orchestras and ensembles around Australia and the world.
All Year 3 to Year 8 SCS students will have access to 52,000 different instruments and the program will be integrated into the normal school curriculum.
Amadeus enables access and equity to music education for all students, regardless of abilities and music backgrounds, and is underpinned by research that proves that learning an instrument and playing in a musical ensemble strengthens neural pathways in the brain and can significantly improve academic success and student engagement.
"Music is an important part of life through which we express ourselves as human beings; music brings communities together, creates joy and stimulates the brain and the senses," Sydney Catholic Schools' Executive Director, Tony Farley, said.
"We decided that music education should not be a privilege just for those who can afford it.
"The introduction of Amadeus is a great example of how we are applying the scale and collaboration of our educational network to deliver innovative educational programs.
"We are committed to putting our students at the centre of everything we do.
"With Amadeus we are not only putting more than 50,000 instruments into the hands of every Year 3-8 student and classroom music lessons from kindergarten, but providing the teaching and support they need to learn and thrive."
Sydney Archbishop, Anthony Fisher OP, said: "I am delighted that the Amadeus program will enable students in all 150 Sydney Catholic schools to benefit from quality music education, especially learning to play a musical instrument.
"Some of these students will be our musicians of the future but, most importantly, I hope it will instil in them an understanding and appreciation of music throughout their lives."
Opera Australia, Sydney Conservatorium of Music, Sydney Youth Orchestras applaud Amadeus
Opera Australia, the Sydney Conservatorium of Music and Sydney Youth Orchestras have thrown their support behind Amadeus, acknowledging it as a major injection of music education for Sydney.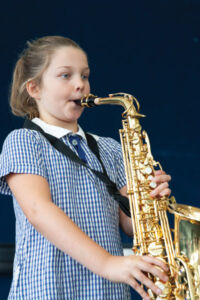 "The Amadeus program is visionary and of enormous value to the broader orchestral world," Lyndon Terracini, the Artistic Director of Opera Australia, said.
"We need robust music education in schools, and I applaud Sydney Catholic Schools for its commitment and investment in Amadeus."
"Support for music and performing arts is great for Sydney and great for the country" – Opera Australia Artistic Director, Lyndon Terracini 
Professor Anna Reid, Head of School and Dean, Sydney Conservatorium of Music, said studying music in school provides children with a means of thinking creatively as individuals and in groups.
"They will experience the beauty of music through positive collaborative experiences and, happily, these experiences will impact on every other area of their study," she said.
Sydney Youth Orchestras' chief executive officer, Mia Patoulios, said she looked forward to the Amadeus Music Education Program "continuing to evolve and strengthen the partnerships between the professional orchestral music sector and education".
About the program
Amadeus students undertake instrumental tuition in small groups of five to eight students for 30 minutes per week learning to play on a string, woodwind, or brass instrument. Students will also play their instrument in a string ensemble, orchestra, or concert band (whole of class) for up to one hour per week.
Kindergarten to Year 8 students will participate in listening, moving, composition and organising sound and performance (voice, and tuned and untuned percussion) activities.
Each year group has a differentiated teaching and learning program to complement the instrumental program, including a cross-curricular approach linking dance and drama to music.
The launch follows a successful pilot with 13 schools in the Auburn-Lakemba network this year. By the beginning of 2024, all 150 SCS schools will be fully implementing the program.
Click here to find a Sydney Catholic School and start your child's musical learning journey.