Sydney Catholic Schools has partnered with NSW Rugby to discover the next generation of Australian rugby sevens representatives.
As part of this commitment, Sydney Catholic Schools (SCS) recently ran a NSW Rugby 7s Academy Camp in conjunction with Rugby NSW.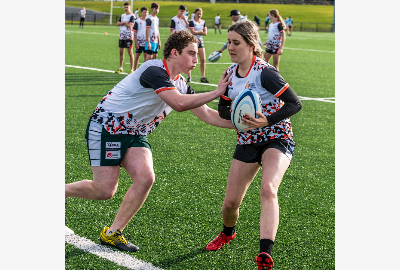 "I am very confident that we have just seen future Olympians hidden in the form of school students," Damien Kerr, Manager of Sport at SCS, said. 
The two-day, invitation-only camp featured guest appearances from Australian rugby legends Ned Hanigan and Charlotte Caslick.
"There's a lot of talent here," Senior Manager of NSW Rugby, Michael Doyle, added.
"The Academy Camp and partnership with NSW Rugby has been instrumental in the development of talent identified athletes and will guide them towards future success" – Damien Kerr 
'They are all really good sponges'
A select 64 students from Year 5 to 11 put their best boot forward in strength and conditioning at the 2022 NSW Rugby 7s Academy Camp, followed by speed and fitness testing.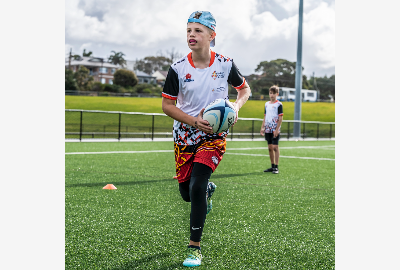 "They are all really good sponges and learn very quickly," SCS staff member, Noah Ta'ale, commented.
Students heard an inspiring opening address from homegrown talent, Ned Hanigen, who made the transition from Catholic Primary Schools athlete to being an Australian Wallabies player.
And they set a benchmark for their individual ability to be revisited at a potential follow-up Academy Camp. 
Lifelong sporting connections were forged along the way. 
"I am very confident that we have future Olympians hidden in the form of school students in SCS Sport" – Damien Kerr 
At the Academy Camp
The camp included a three-station skills rotation involving girls and boys in the same drill, led by NSW Waratahs staff and SCS Education Officer Troy Moran, and Noella Green – a former women's Waratahs player turned exercise physiotherapist – led a seminar covering nutrition, mental health, and recovery.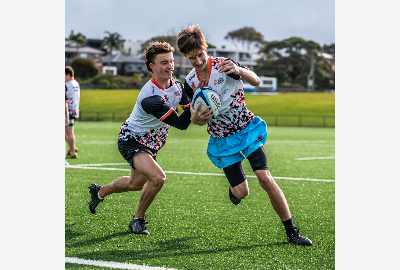 With mouthguard-grins across the field, Day 2 saw time dedicated to game situation training. 
Pastoral learning permeated much of the activities, for example a buddy system saw older students partnering with younger ones to provide mentorship while cementing lifelong friendships among the athletes. 
Athletes were starstruck by a Q&A portion of the camp headlined by Olympic gold medallist Charlotte Caslick, alongside internationals Teagan Levi and Maddi Levi. Caslick advised students to "enjoy the hard work".
Every athlete received an SCS Academy Squad jersey to show that regardless of school, they were all united and part of the talented athlete community.   
Pathways to success
When asked about the sporting pathways available to attendees, Mr Doyle said "there couldn't be more opportunities!"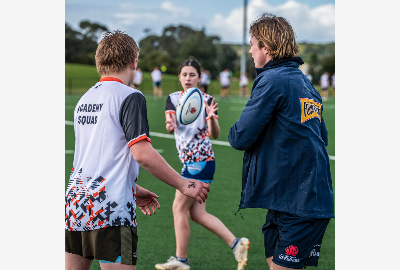 He listed the International World Series, NSW Rugby State Championships, elite academy programs, as well as the Commonwealth and Olympic Games, adding that he wanted to take the identified athletes "all the way to the top."
Mr Doyle said seven of the 14 the players in the current Olympic Rugby 7s women's squad had come through the NSW Rugby system.  
"They started exactly how these students are starting today," he said.
What is Rugby 7s and how is it played?
A fast, high-scoring version of traditional rugby, sevens is played with two teams of seven players who have 14 minutes to advance the ball into their opponent's area of the field (pitch) and touch it to the ground for a score worth five points (try).
Sport at Sydney Catholic Schools
Mr Kerr said Rugby 7s is just one of many avenues to build Sydney Catholic schools students' confidence and important life skills, such as teamwork and resilience, through sports.
As 2022 unfolds, along with 221 inter-school primary and secondary sports events, new sports will be made available, including more sports offerings as part of Sydney Catholic Schools' first ever Unified All Abilities Interschool Sports Program.