Archbishop Anthony Fisher OP has announced Mrs Kerrie McDiarmid as the new Principal of St Mary's Cathedral College Sydney following a rigorous selection process. 
Archbishop Fisher said Mrs McDiarmid's appointment as Principal of St Mary's Cathedral College Sydney was "a wonderful moment for our oldest school and our mother Church in Australia – St Mary's Cathedral." 
Mrs McDiarmid will take up her new role at the beginning of 2023.
"Kerrie is a woman of deep faith and high intellect, who is driven by a passionate belief that an excellent Catholic education sets our students up for life," Archbishop Fisher said. 
"I congratulate Kerrie and look forward to working with her in what is an exciting and transformative time in the College's history" – Archbishop Anthony Fisher OP
"Her track record as an innovative and highly successful school leader is demonstrated by both publicly recognised student outcomes and the reputation she has within the broader education community," Archbishop Fisher said. 
Ms McDiarmid's most recent accolades include being named by The Educator as one of the Most Influential Educators for 2022.
During the COVID-19 pandemic Mrs McDiarmid, in her current role as Principal of St Clare's College Waverley, oversaw a number of exciting programs that kept students focused and engaged in their learning. 
This included an integrated Maths Pathway platform for Stage 4 and 5 students that allowed students to move through the curriculum at their own pace.
Under her stewardship, St Clare's College Waverley was also named one of Australia's most innovative schools and the College was an awardee of the Secondary School of the Year (non-govt) in both 2021 and 2022.
Vision and Commitments
The Executive Director of Sydney Catholic Schools, Tony Farley, said Mrs McDiarmid's appointment spoke to "the ambition and vision we have for St Mary's Cathedral College."
"Demand for places at the College grows by the year and we see the opportunity to evolve into a co-educational College with students from Kindergarten to Year 12," Mr Farley said.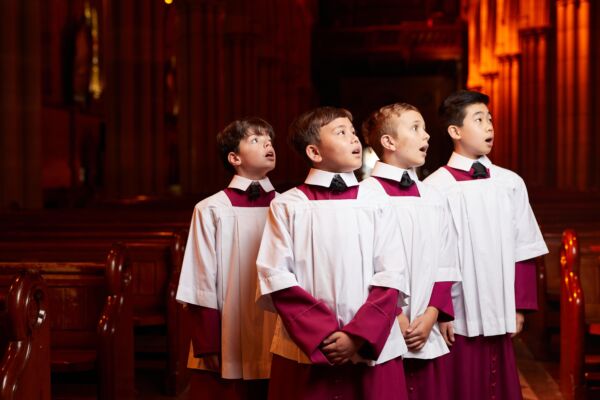 "St Mary's Cathedral College is grounded in a timeless tradition and ethos as a chorister school, and Kerrie will be leading a major development of the school's curriculum that will be grounded in the liberal arts and that will distinguish the school as a place of academic and creative excellence."
Situated in the heart of Sydney, St Mary's Cathedral College has the city as its classroom. 
A short walk from the Art Gallery of NSW, the Royal Botanic Gardens, the State Library, Hyde Park Barracks, Sydney Opera House and the Rocks, the College is uniquely placed as a centre of learning that seamlessly blends history and tradition with innovation and cutting-edge collaborations with some of the best minds and institutions in Australia. 
"Kerrie McDiarmid is a leader who can see those possibilities and who can make them real," Mr Farley said.
Her announcement as Principal follows the retirement of current St Mary's Cathedral College Principal, Mr Michael Kelleher, who has led the College for the past seven years. 
"Michael Kelleher is an example of all that is good in Catholic education; a leader and colleague who has always been student focussed and who cared deeply for everyone he has worked with and for," Mr Farley said.