More than 1,100 secondary students from across the Archdiocese of Sydney came together today to compete in Sydney Catholic Schools' inaugural Pre to Post combined Cross Country Championships in Eastern Creek.
The Cross Country Championships officially began with an opening ceremony, signalling the start of 16 races ranging from three to eight kilometres in length. 
Sydney Catholic Schools' Manager for Sport, Damien Kerr, said the excitement, both in the stands and on the track at Sydney Motorsport Park, was palpable on Day 1 of the two-day Championships. And with very good reason.
"Today's event marked the first time in Sydney Catholic Schools' history that a cross country was live-streamed and had commentators narrating all the action," Mr Kerr said. 
First-time commentators and very good friends, Gabby Zanapalis and Natalie Toma, both rose to the unexpected challenge, syncing seamlessly and bouncing off one another well. 
The Year 9 students, from Our Lady of the Sacred Heart College Kensington, were invited to commentate as part of their school's entrepreneurship program.
"It was nerve-wracking at first – I don't like the sound of my own voice," admitted Natalie.
Gabby, on the other hand, was not embarrassed at all, stating "I love the sound of my own voice."
"I do athletics so I understand the mental and physical preparation these athletes need to have, so I feel it was easier for me to say some things," Gabby, who hopes to one day work as a multimedia specialist, said.
The system's new General Sports Officers were also on the ground today, helping to ensure the large-scale event ran smoothly.
"It was just wonderful to see the crowd participation and the way our athletes were visibly energised by seeing their results come through in real time, thanks to a new tracking app we made available to all our parents, friends and competitors for the first time at this event!" – Damien Kerr
What's next
The top twelve athletes from each race will return to Sydney Motorsport Park on Tuesday, 7 June, for the NSW Combined Catholic Colleges Championships.
At these championships athletes will vie for spots at the NSW All Schools Championships on Friday, 22 July, also at Sydney Motorsport Park.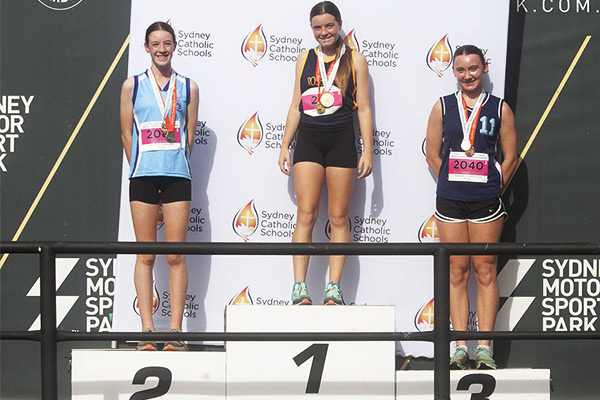 Among the athletes moving along SCS' representative sports pathway is Niamh McMahon from Bethlehem College Ashfield who dominated her field, crossing the line in 16:41.3 minutes in the 17 Years Girls – the first event of the day. 
Niamh's nearest competitor ran the race in 17:17.0 minutes. "It was a comfortable race," said an out-of-breath Niamh.   
Other gold medallists included Holy Cross College Ryde student Jacob Brown, winner of the 12-14 Boys Multi Class, who remarked that "the muddy bits were [hard] but I had to just keep running".
Buoyed by his victory, Jacob smiled and gave two big thumbs up for the cameras and silver medallist Dimitri Spiliotopoulos grinned and gave one thumbs up.
Lachlan Stanfield from Marcellin College Randwick was the winner in the 18 Years Boys, running 16:41.3 minutes. "I've been doing cross country since I was four," said Lachlan.
Lachlan trains three days a week with Up and Running, a recreational running group catering for all ages and levels of runners based in Centennial Park. "I also do easy long runs around Chifley on Sunday afternoons,' Lachlan added.
The race action continues tomorrow with Day 2 of Sydney Catholic Schools' 2022 Cross Country Championships.  
On Wednesday, 25 May, primary students from across the Archdiocese of Sydney will return to Sydney Motorsport Park to vie for spots at the Catholic Primary Schools Championships.
"Sydney Catholic Schools is proud to provide our students with the opportunity to participate in a wider variety of sports at school, as well as increased opportunities to trial and represent at a state and national level" – Damien Kerr
FIND OUT MORE
Sydney Catholic Schools' Cross Country Championships page has valuable information about the two-day championships, including FAQs, course maps, a virtual walk-through and information about the SportSplits Real-Time Tracking app. 
Mr Kerr said the Cross Country Championships is just one of many avenues to build students' confidence and important life skills, such as teamwork and resilience, through sports.
As 2022 unfolds, along with 221 inter-school primary and secondary sports events, new sports will be made available, current sports enhanced and connections made with broader sporting associations and communities.