St Andrew's Catholic Primary School Malabar's book club for parents is made of the write stuff.
The book club was started in 2016 by the school's then-Family Educator, Brenda Smith, to give parents a relaxed environment to connect with others.
It quickly became a social gathering where people who would normally not connect in the school yard could connect over a book. 
"It is always great to have commonality with others" –  Frances Addabbo
What happens in book club
St Andrew's book club meets every six weeks to discuss a book chosen after mutual discussion.
Restaurant gatherings have turned into 40-minute Zoom sessions online while COVID-19 pandemic restrictions are in place.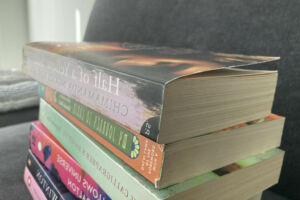 What are they reading?
The group will discuss Mexican author Sofia Segovia's novel The Murmur of Bees at their next online meeting in September.
The novel is about the impact of an adopted boy, protected by bees and with the gift of foresight, on those around him. It is set during the Mexican revolution and influenza pandemic of 1918.
St Andrews' current Family Educator, Frances Addabbo, who now facilitates the book club, chose the book based on the recommendation of a friend.
Why join
Ms Addabbo said the main highlight of the book club was a sense of connection between parents at the school.
"Parents have appreciated taking time off their schedule, family and work responsibilities to read a book," she said.
This year St Andrew's book club has also read WWII love story The Lace Weaver by Lauren Chater and Geraldine Brooks' The Secret Chord, an exploration of the life of King David in the Bible's Old Testament.
Like other Family Educator initiatives, the relaxed sessions give parents and carers a chance to connect and reflect – on the themes of the novels and how they might apply to their own lives and faith.
From sweeping historical fiction to modern day complexities, the books chosen also provide opportunities for related prayer sessions or excursions.
After reading Marcus Zusak's The Book Thief, the book club visited Sydney's Jewish Museum.
When the book club read Auggie and Me, R.J Pallacio's sequel to Wonder about a boy's experience of mainstream school with his extreme facial difference, a SPaR – Stop Pray and Reflect – session was also held with the theme 'Accepting differences'.
Wondering what to read next? 
Here are some other St Andrew's Book Club recommendations to put on your list:
Eleanor Oliphant is Completely Fine

, Gail Honeyman

Auggie and Me

, R.J Pallaccio

The Secret Chord

, Geraldine Brooks

Angela's Ashes

, Frank McCourt

All the Light We Cannot See

, Anthony Doerr

Beartown

, Frederick Backman
OUR FAMILY EDUCATORS
Family Educators act as liaisons between their appointed Sydney Catholic school and Parish communities, working on and creating invitational events, information sessions and activities that aim to:
connect families with the religious life of the school and the parish;

provide further support to families in the development of their child – spiritually, socially and educationally;

promote Catholic mission and identity;

promote a welcoming, vibrant faith community.