Students at Patrician Brothers' College Fairfield can further hone their cricket skills thanks to eight newly refurbished batting nets.
The cricket facility was officially opened on Friday, February 18, during a ribbon-cutting ceremony attended by Tony Farley, Executive Director of Sydney Catholic Schools, and Fairfield state MP, Guy Zangari.
The upgrade was made possible through two rounds of funding from the NSW Government's Community Building Partnership program.
Located alongside the College's green fields and basketball courts, the cricket nets will be a major boost to the College's students, who will enjoy regular use of the facility during PDHPE lessons and cricket training.
Peter Wade, Principal at Patrician Brothers' College Fairfield, said the new facility was the culmination of plenty of hard work from a collection of key people. 
"I would like to thank Tony Farley and Sydney Catholic Schools for their contribution to the project, as well as Guy Zangari for his ongoing support of the College," Mr Wade said.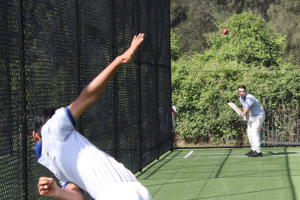 "A special mention also to Kerry Logue, the College's Business Manager, and Craig Wasson, who is responsible for the College's grounds and maintenance, for their assistance in bringing the facility to life."
Mr Wade said the students at the College are now eyeing off what promises to be an exciting year of cricket. 
"We are looking forward to Sydney Catholic Schools' competitive cricket season in Term 4 and we are confident that our College cricket teams will benefit greatly from the new facilities" – Peter Wade
"We are proud of all our sportsmen and always enjoy seeing them go on to greater things – perhaps our new facility will assist cricketing Patrician men in their progress to represent NSW or Australia," Mr Wade added. 
Mr Farley said the new facility was an example of Sydney Catholic Schools' commitment to expanding the opportunities for all students. 
"Our schools provide such a range of opportunities for a student as they move through their schooling lives," Mr Farley said. 
"Sport is one of those areas where we're very much in the space of expanding opportunities for all the young men and women in our schools, and facilities like these allow those students to experience that in the school setting as well as outside of it."
By: DOMENIC TRIMBOLI