A creative response to singing restrictions at the height of the 2020 COVID-19 pandemic has united the voices of 260 Sydney Catholic Schools students and staff and prompted an exploration of new modes to engage its school communities in the arts.
A virtual choir video clip – which shows students from Kindergarten to Year 12, staff, teachers, parents and alumni singing Christian hymn 'For the Beauty of the Earth' by John Rutter in unison online – was officially launched on Sydney Catholic Schools' Facebook page on Friday 17 September.
Executive Director of Sydney Catholic Schools, Tony Farley – also part of the choir – said the video premier highlights the unity it inspired at a time when many worked in isolation.
Our joyful hymn of praise
"I am delighted that the simple act of singing for this project has created something so joyous and inspired such collaboration among our staff," Mr Farley said.
"The resulting video is a beautiful reminder of the agility of our educators and the knowledge, skills and positivity they bring to the challenge of educating more than 70,000 students amid the ever-changing measures in NSW to contain the spread of COVID-19" – Tony Farley
Sydney Catholic Schools' creative and performing arts specialist, Eva Spata, said some staff and students were invited to record their part in the project in Southern Cross Catholic College Burwood's professional recording studio under strict COVID-19 guidelines.
"The virtual choir was an opportunity for our community to sing together when they had not had a chance to for so long due to COVID restrictions," Ms Spata said.
"This song was the perfect choice, with its soaring soprano line and expressive lyrics; a perfect way to celebrate not only God's creation, but the ability music has to move people and to tell a story by touching the hearts of those who hear it" – Eva Spata
Though plans to launch the video in the forecourt of St Mary's Cathedral – the spiritual home of Sydney's Catholic community – were abandoned due to the COVID-19 lockdown, pieces of the Cathedral can still be seen in the video.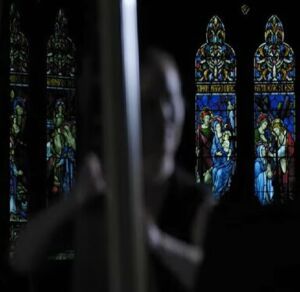 These include a window depicting the Magnificat and the Cathedral's crypt, where instrumental solos were recorded.
Archbishop of Sydney, Anthony Fisher OP, said the virtual choir's work was "a hymn of beauty amid isolation and anxiety."
"Theologian C.S. Lewis once said: 'In heaven everything is either silence or music'," His Grace said.
"Our virtual choir has given us a small piece of heaven."
Introducing our special guests
The message below includes an introduction from Archbishop Fisher, Eva Spata and two of our student singers, Adelaide from McAuley Primary Rose Bay and Gabryl from Marist College Kogarah.