The students in Sydney Catholic Schools Performing Arts' (CaSPA) indigenous ensemble drew on a rich tradition of caring for the earth to give their primary school peers a lesson in Aboriginal culture that is relevant today.
The 2019 Murrawadeen Goodjarga 'Growing in Culture' tour visited 12 primary schools in four days, with 15 Aboriginal and Torres Strait Islander students in Years 7 to 12 at Sydney Catholic high schools using storytelling and dance to highlight sources of environmental damage and ways for people to reduce their impact on the land.
The 25-minute narrated performance and Q&A drew audiences' attention to the 4 billion plastic bags Australians use annually, a source of microplastics that pollute waterways. They spoke of how the ensemble's props were made of natural materials, including emu feathers and ochre that would not have a negative impact on the land.
Students also learnt that 80 per cent of clothing goes to landfill each year, and e-waste accounts for 70 per cent of the toxic chemicals in landfill.
There's something real about students delivering the learning.
Bethlehem College Randwick Year 10 students Taryn Little and Allira Johnson were among the ensemble's performers and are of the Yuin and Kamilaroi nations.
Taryn said teaching the younger students about culture – including a traditional welcome dance – was fulfilling.
"You get a different feeling," she said. "When you are taught it, you feel ancestors coming around you and supporting you, and when you're teaching it you feel them going and giving support. It's a special feeling to know that people are going to absorb this.
"The students ask if they're allowed to do this stuff, because a lot of children who aren't indigenous think they can't do traditional stuff when they can. They all live in Australia which is indigenous land. It's everyone's culture as much as ours.
"I have family who live in drought stricken areas, so water is a big part of their life. If the water is not good enough for the cattle then it's not good enough for them, so it's about making sure that the water quality is good for all living organisms."
Alira agreed. "The river part resonated with me," she said of the performance. "The plastics have polluted the rivers, and our land will have some effect from it."
It's a special feeling to know that people are going to absorb this.
Imogen Grant, in Year 10 at Brigidine College Randwick, is of the Dharug nation and also valued the performance's theme.
"I think for primary school children it's something that brings a positive message," she said. "Our generation are going to suffer in the future if we don't do anything [to help the environment]."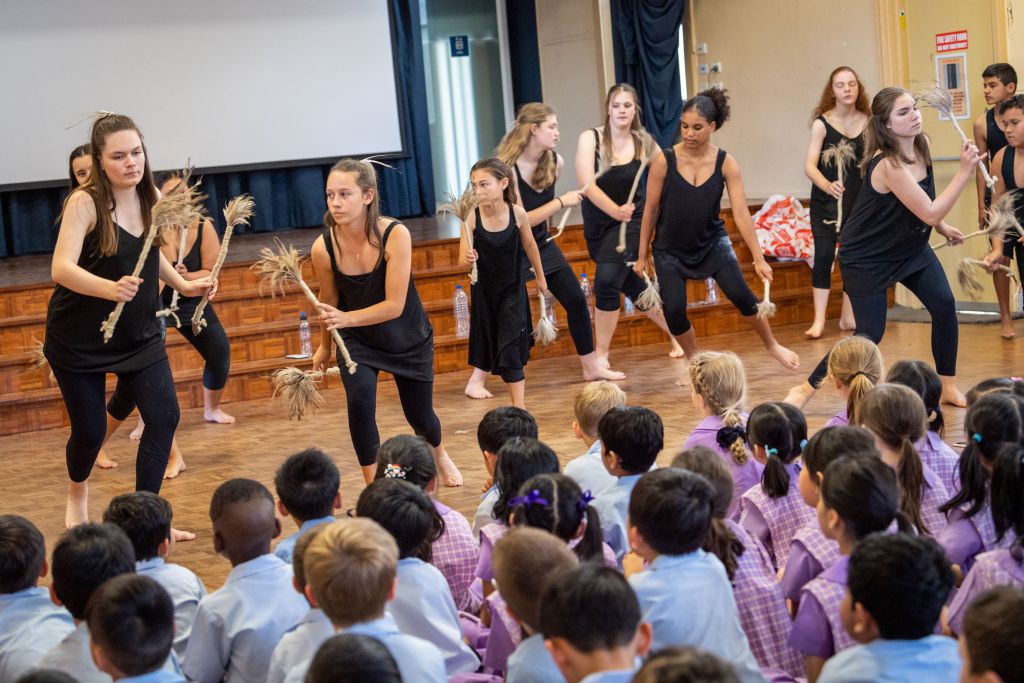 CaSPA Secondary Coordinator Elizabeth Mullane said the Goodjarga tour is booked out within an hour when it is announced each year, and answered a thirst for indigenous cultural knowledge and learning from both students and teachers.
"I think there's something real about students delivering the learning," she said. "It's really affirming of their cultural identity to be out on the road as custodians of the Aboriginal histories.
"They are the storytellers, so it puts the onus on them to grow in their cultural knowledge and develop their leadership skills. It's very rewarding for the audience and the students who are participating."
The ensemble worked with co-artistic director Stuart McMinn, artistic advisor Jo Clancy and program alumnae to hone their performance during a three-day rehearsal retreat before taking the production to schools including St Vincent's Catholic Primary School Ashfield.
Other tour stops included:
All Hallows Catholic Primary School Five Dock
St Peter Chanel Catholic Primary School Regents Park
St Joseph's Catholic Primary School Oatley
Our Lady of Fatima Catholic Primary School Kingsgrove
St Francis Xavier Catholic Primary School Arncliffe
St Therese Catholic Primary School Sadleir-Miller
Holy Spirit Catholic Primary School Carnes Hill
Mary Immaculate Catholic Primary School Bossley Park
St Francis De Sales' Catholic Primary School Woolooware
St Aloysius Catholic Primary School Cronulla
Our Lady of Fatima Catholic Primary School Caringbah
By: Jade Ramirez