Year 6 students from Sydney Catholic primary schools have collectively spent more than 17,800 hours this year helping their school and parish communities as part of the Pope Francis Awards.
The effort is the equivalent of 106 weeks, or more than two full years, of volunteering and almost triple the 6,367 hours students collectively spent to qualify for their awards in 2018.
The students have visited nursing homes, assisted with technology and music at mass, and led playground cleanup initiatives and school fundraising drives in their own time to receive the award, which asks students to do at least 20 hours of volunteer service split between their parish and school.
They realise the best gift you can give someone is your time.
Cheryl Fernandez, a youth ministry leader at Sydney Catholic Schools, said participation in the program had more than tripled since the program pilot in 2017 that involved 220 students from 17 schools. This year, 696 students have taken part in the award from 63 schools.
"It started with students from Years 5 and 6, then in 2018 it became for Year 6 students only because we found it tied in better with their leadership programs," Ms Fernandez said.
"It was a way to acknowledge the volunteer hours many students already do, establish a link between them and their parish and help them to know what voluntary service is all about.
"Once they start doing the voluntary work they develop a love for it and the people involved, so a lot of students keep going. I think also that they realise the best gift you can give someone is your time. That becomes a real focus for them."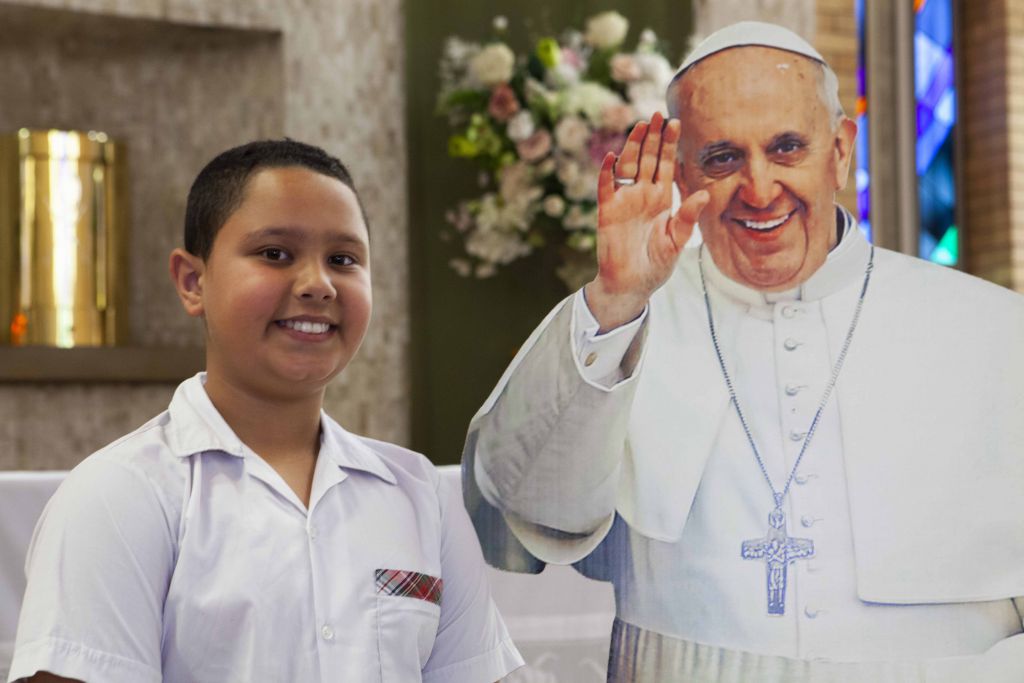 Good Shepherd Catholic Primary School Hoxton Park Year 6 student Damien Nakhla led the charge, completing 403 hours of service. He is not alone in continuing to volunteer well after completing the award's qualifying hours.
Though he also received the award in early November, Our Lady of the Sacred Heart Primary School Randwick Year 6 student Nathan Chin continues to play guitar at Sunday mass in his parish and at school assemblies.
"Every week the songs change," he said. "I go there an hour early and they run me through the different church hymns. It's good and it helps me to play in front of an audience. The best part was doing the award with my friends and meeting new people."
Mum Yen said Nathan's teachers were also supportive of his efforts.
"We're very proud of him," she said. "This has been a very good opportunity for him to get more involved in the church community and to understand how to give, and to get to know more friends."
St Therese Catholic Primary Mascot Year 6 student Jeremy Bezzina completed 70 hours of service. The budding politician said supporting the homeless through Mini Vinnies and being an alter server at his parish helped him to complete the award while having fun.
I've become a better person and formed stronger relationships with people.
"We had a Mini Vinnies winter sleep out so there was a lot of time and hours leading up to that," he said. "I liked meeting new people and going to the faith formation sessions at lunch times. I've become a better person and formed stronger relationships with people. It's been a really fun time being a part of this program."
Charlotte D'Arcy, in Year 6 at Mater Dei Catholic Primary School Blakehurst, set up for liturgies, mentored students from younger grades, read at school and church masses, and helped prepare meals for the homeless and for parish morning teas.
She said one of the benefits of giving up her recess and lunch breaks to volunteer was developing compassion.
"It's thinking of other people before yourself," she said. "I've become more patient and liked getting to help the school and younger students."