Young athletes saw how far the representative sport pathways offered at Sydney Catholic Schools and a determined attitude could take them when St John Bosco College Engadine graduate and paralympian Sarah Walsh spoke at the 19th annual Sydney Archdiocesan Primary Sports Awards.
Sarah broke the Oceania record in the T44 long jump and competed in the Rio Paralympic Games three weeks before sitting her HSC in 2016.
She received three consecutive Primary Sports Awards herself while in the early stages of an athletics career that saw her win Bronze at the 2019 World Para Athletics Championships in Dubai and qualify for her second Paralympic games in 2020.
Through the sporting system here I've been able to realise my full potential.
Sarah was born with fibula hemimelia, a condition where the calf bone is either shortened or missing, and had her right leg amputated at 18 months old. It was a decision she thanks her parents for and one that set her running towards Paralympic glory.
Sarah said she "played every sport under the sun" including swimming, netball, basketball, and gymnastics before she discovered athletics in Year 3.
"I've learnt to grab every opportunity. At the time I couldn't run 100 metres, could barely hold a shot put and could not do long jump for the life of me but I still got out there and gave it a go," she said.
"Through the sporting system here I've been able to realise my full potential. If it wasn't for the primary school teacher who believed in me and encouraged me to try athletics, I wouldn't be here as a Paralympian today.
"The opportunity sport gave me to show the world that despite having only one leg, I am just as strong and capable as anyone else out there has been amazing."
New talent
Sarah presented 37 young athletes from Sydney Catholic primary schools with medals at the 2019 Primary Sports Awards, held at St Charles' Catholic Primary School Ryde in November.
The awards recognise young athletes from a pool of 114 Catholic primary schools who have excelled at sports during the school year.
To receive an award, students must have represented the Sydney Archdiocese in a NSW Catholic Primary Schools (NSWCPS) MacKillop team or NSW Primary Schools Sports Association (NSWPSSA) State team and demonstrated a high level of sporting achievement in their schools.
I like the feeling of joy you get when you compete.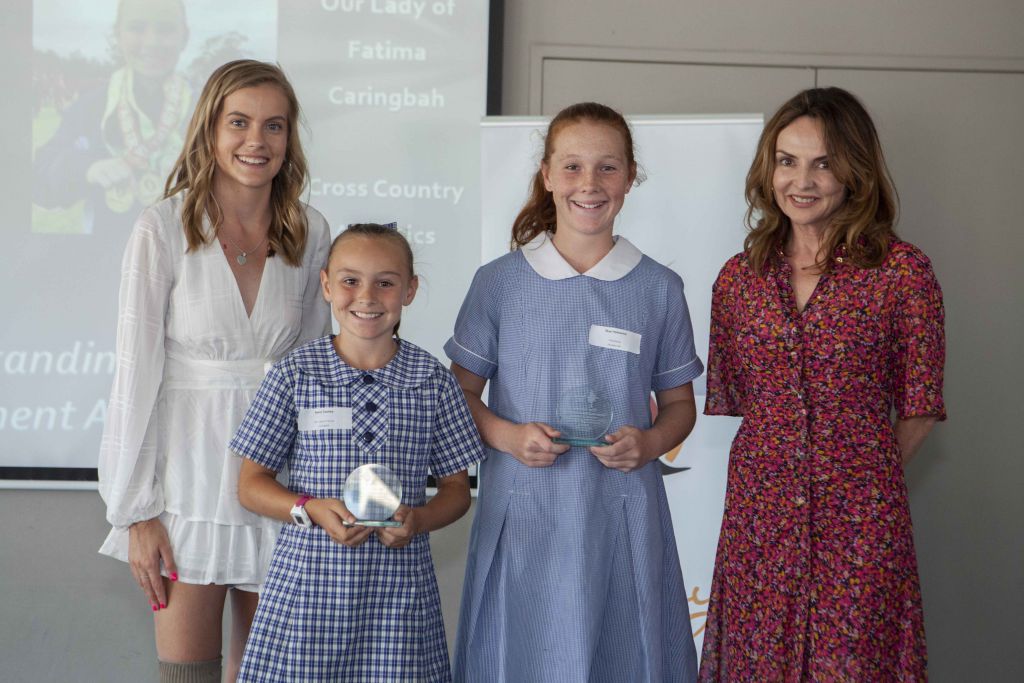 Outstanding achievers
Two students who made two national teams each this year received outstanding achievement awards.
Villa Maria Catholic Primary School Hunters Hill Year 6 student Skye Halmarick represented NSW in cricket and soccer at School Sports Australia championship events.
"It was a great experience," she said. "The grand final was against Victoria. They set a very big target and we reached it with our two overs, finishing the score with no wickets lost and we won the gold medal for NSW."
Keira Toohey, in Year 4 at Our Lady of Fatimah Catholic Primary School Caringbah, competed in Cross Country and won two gold medals – for the 10 Years Girls' 800m and 1500m events – while representing NSW in Athletics.
"It's exciting because it's my first year and I feel grateful that I get this opportunity," she said. "I like the feeling of joy you get when you compete. It's a great feeling when you are with your teammates."
Sport's appeal
Sydney Catholic Schools (SCS) Archdiocesan Primary Sports Coordinator Troy Moran said students had gained valuable skills across 16 representative sports this year. More than 9,000 SCS students participated in representative pathway sport, with almost all of the primary sports award recipients representing NSW at the School Sport Australia national championships.
SCS also made strides in equity and inclusion in 2019. The number of multi-class athletes taking part in representative sport tripled, and more than 9,400 students took part in soccer, touch football and netball gala days with an emphasis on teamwork and skills.
"Participating in sport builds self-esteem, improves fitness and allows students to challenge themselves to do their best when presented with an opportunity to progress through the representative school sport pathway," Mr Moran said.
"Congratulations to the students for having a go and representing their school with pride."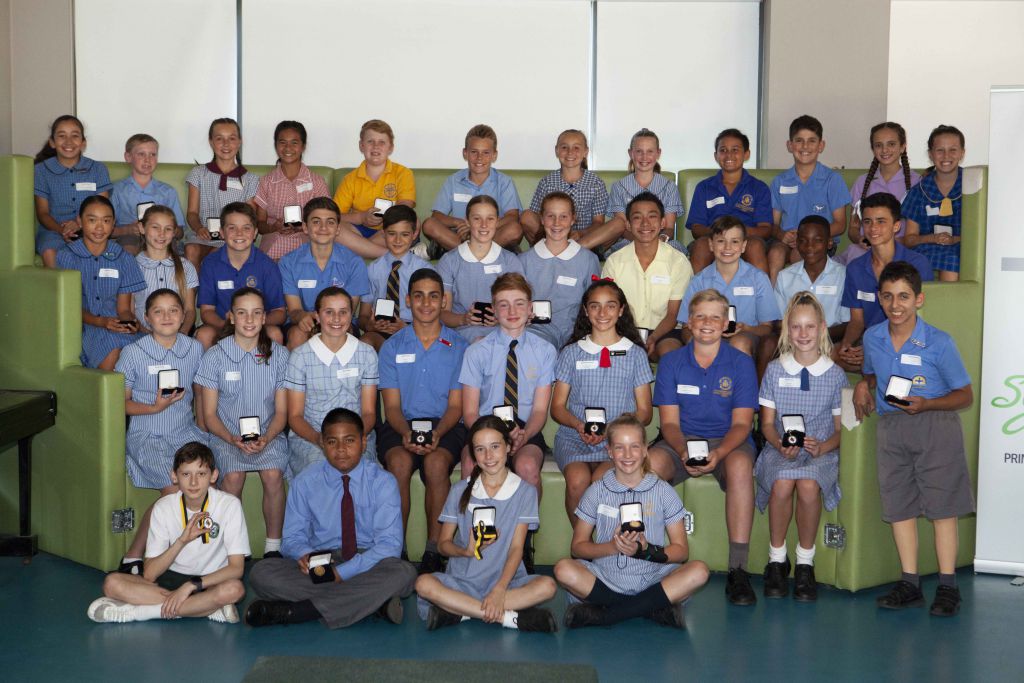 Primary Sports Award recipients in 2019 are:
Michael Ajaka, Year 6, St Kevin's Catholic Primary School Eastwood
Audrey Aulia, Year 6, Our Lady of the Rosary Catholic Primary School Kensington
Nathan Barbara, Year 6, St Anthony's Catholic Primary School Marsfield
Joshua Barr, Year 6, St Catherine Laboure Catholic Primary School Gymea
Rhiannon Bellette, Year 6, St Christopher's Catholic Primary School Panania
Sofia Bisello, Year 6, St Joseph's Catholic Primary School Enfield
Indii Bower, Year 5, Holy Family Catholic Primary School Menai
Stephanie Bruzzese, Year 6, St Vincent's Catholic Primary School Ashfield
Toby Calder, Year 5, St John Bosco Catholic Primary School Engadine
Olivia Callaghan, Year 6, St Michael's Catholic Primary School Lane Cove
Christian Camus, Year 6, Sacred Heart Catholic Primary School Mosman
Camilla Casafus, Year 6, Our Lady of the Rosary Catholic Primary School Kensington
Jesse Chukwudi, Year 6, St Christopher's Catholic Primary School Holsworthy
John Darley, Year 5, St Patrick's Catholic Primary School Sutherland
Mikayla Duong, Year 6, St Joseph's Catholic Primary School Enfield
Jerome Estephan, Year 6, St Joseph's Catholic Primary School Riverwood
Skye Halmarick, Year 6, Villa Maria Catholic Primary School Hunters Hill
Charlotte Harkin, Year 6, Villa Maria Catholic Primary School Hunters Hill
Matthew Lau, Year 6, St Therese's Catholic Primary Padstow
Bronte Locane, Year 5, St Columba's Catholic Primary School Leichhardt North
Sione-Nau Lua, Year 6, St Joseph the Worker Catholic Primary School Auburn South
Grace McMahon, Year 5, St Joseph's Catholic Primary School Enfield
Patrick McMahon, Year 3, St Joseph's Catholic Primary School Enfield
Alyssa Michael, Year 5, St Therese's Catholic Primary School Sadleir-Miller
Isaac Moshonas, Year 4, St Joseph's Catholic Primary School Como-Oyster Bay
Poppy O'Brien, Year 4, Sacred Heart Catholic Primary School Mosman
Charlotte O'Dowd, Year 5, Villa Maria Catholic Primary School Hunters Hill
Jake Ossman, Year 4, St Raphael's Catholic Primary School Hurstville
Cody Ramanauskas, Year 5, St Catherine Laboure Catholic Primary School Gymea
Toby Roper-Marshall, Year 6, Sacred Heart Catholic Primary School Mosman
Angelina Scamardella, Year 6, John the Baptist Catholic Primary School Bonnyrigg
Victor Strokin, Year 6, St Francis of Assisi Catholic Primary School Paddington
Cassidy Thomson, Year 6, Sacred Heart Catholic Primary School Mosman
Logan Toohey, Year 6, Our Lady of Fatima Catholic Primary School Caringbah
Keira Toohey, Year 4, Our Lady of Fatima Catholic Primary School Caringbah
Boston Traino, Year 4, St Catherine Laboure Catholic Primary School Gymea
Taurus Traino, Year 6, St Catherine Laboure Catholic Primary School Gymea