Free to parents, register now to hear from high-profile author and media commentator Melinda Tankard-Reist.
Melinda Tankard Reist will present 'Too Much Too Soon: Why it's important that we talk to our children about porn' for one night only at Canterbury Leagues Club this Monday, 12 September.
This free talk is an event of Sydney Catholic Schools' Mission and Identity Directorate. It is from 7pm-9pm and refreshments will be provided. Click on the button below to register.
About the Talk
Drawing on current global literature, along with the experiences of young people, Melinda will explore how the proliferation of sexualised images and messages contributes to a distorted view of bodies, relationships and sexuality in young people, hampering their healthy physical, emotional and social development. 
She will provide practical tips on how we can address this toxic culture and raise happy, healthy and resilient young people who value their dignity and self-worth and aspire to relationships based on respect and authentic connection.
"Don't miss this event!" said Sydney Catholic Schools' Education Officer: Church Engagement, Elsa Manu. "It will be the best thing you'll ever do for your child." 
About the Presenter
Melinda (pictured right) is best known for her work addressing sexualisation, objectification, harms of pornography, sexual exploitation, trafficking and violence against women.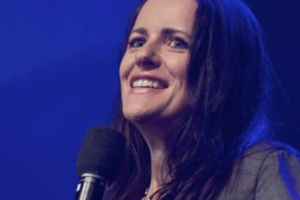 She is the author/editor of seven books including her latest release, 'He Chose Porn Over Me: Women Harmed By Men Who Use Porn'. 
Melinda has appeared on ABC's Q&A and The Gruen Sessions, TV and radio, and has been named in the World Who's Who of Women.
She is co-founder and movement director of grassroots campaign, Collective Shout: for a world free of sexploitation, exposing corporations, advertisers and marketers who objectify women and sexualise girls to sell products and services.