Domremy College's Nano Nagle Learning Centre (NNLC) has been officially blessed and opened on The Feast of the Presentation of the Blessed Virgin Mary.
BLESSING AND OPENING OF NNLC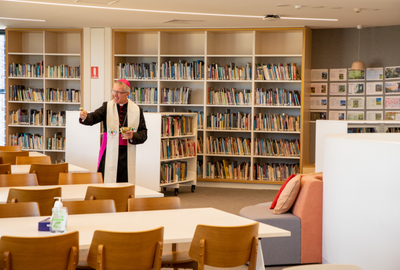 The blessing date of 21 November 2022 was especially chosen by the College to recognise foundress of the Sisters of the Presentation of the Blessed Virgin Mary and the centre's namesake, Venerable Nano Nagle. 
The ceremony was officiated by Most Reverend Daniel Meagher Auxiliary Bishop of Catholic Archdiocese in front of the staff, students and parents of the College, Presentation Sisters  and distinguished guests instrumental in the creation of the centre.
EXCELLENCE IN EDUCATIONAL ARCHITECTURE
The multi-awarded NNLC has won the 2022 Australian Institute of Architects (AIA) NSW Architecture Awards in the category of Educational Architecture.
"The Nano Nagle Learning Centre at Domremy College demonstrates the benefits of testing, listening, and prototyping in designing for change"– The AIA NSW Architecture Awards Jury
The centre was co-created through extensive collaboration between the College, Sydney Catholic Schools, Hayball Architects and Reitsma Constructions Pty Ltd and technical and educational experts.
"I am deeply appreciative of the teachers, students and parents who gave their input into the learning centre—a contributing factor in its award-winning design," said Domremy Principal, Antoinette McGahan.
EMPOWERING STUDENTS' LEARNING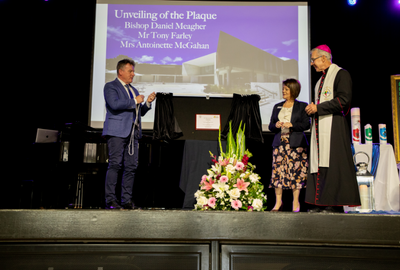 Cleverly designed learning spaces create a comfortable environment empowering students to be critical and creative thinkers through collaboration and entrepreneurial engagement.
These learning spaces enable enquiry-based learning and include tutorial rooms, incubator spaces, presentation and maker spaces, quiet senior study spaces, a library, a theatrette and a courtyard playground.
"The state of the art centre with zoned learning spaces encourages a modern and dynamic model of teaching and learning that enhances students' learning experiences," Mrs McGahan said. 
By: JUDE THOMAS