Feeling anxious about the return to school after COVID lockdown? You're not alone.
Sydney Catholic Schools' Wellbeing Team have reinforced teachers' readiness to guide students back to classroom routines, with resources on topics including anxiety, gaming addiction and resources to support wellbeing at school and at home.
THE IMPACT OF LOCKDOWN
By the time face-to-face learning resumes – on Monday, 18 October for Kindies, Years 1 and 12 and Monday, 25 October for everyone else – students will have been out of the classroom for four whole months.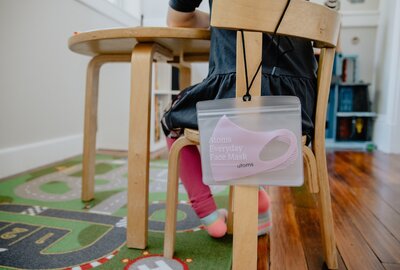 Students, parents and teachers have experienced significant changes in routine and lifestyle since lockdown, and estimates of anxiety are double pre-pandemic rates.
"As we return to school it's important we help staff, parents and students to feel confident and safe," said Sydney Catholic Schools' Manager: Student Wellbeing and Learning, Stephen Said.
"It's acknowledging that this has been a difficult time and we need to support and to look out for each other" – Stephen Said
MENTAL HEALTH SUPPORT IN OUR SCHOOLS
A Headspace survey of more than 3,500 young people during the June 2020 pandemic showed 86 per cent reported a negative impact on mood, wellbeing and sleep.
And according to Mr Said, parents can take heart that many protective factors to enhance positive mental health can be found in their child's school.
These include social support from friends or adults, positive relationships with teachers, academic engagement, community cohesion and links with cultural identity.
RETURN TO SCHOOL STRATEGIES
Mr Said explained that students were likely very excited to reconnect with their peers and friends at school.
To support this return to school, Sydney Catholic school teachers have been emphasising opportunities for students to reconnect in ways that enhance, rather than detract from, learning.
"We have an opportunity to help strengthen the relational ties integral to wellbeing and learning" – Stephen Said
"As students return to school, some will be excited to be back and others will feel anxious about the transition," Mr Said added.
"Understanding how a challenging experience can affect mental health and wellbeing and a supportive return-to-school strategy are key to supporting young people to thrive as they return to their learning community."
ROUTINE & TECHNOLOGY DETOX
It's not uncommon for students' routines to take a dive during the COVID-19 lockdown.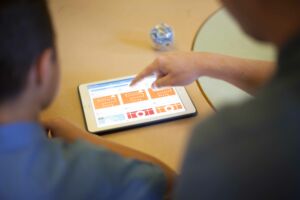 For some older students, the norm has become sleeping until noon, having breakfast at lunch time, and completing their school work in the afternoon.
For younger students, well-meaning but unrealistic expectations of what school 'looks like' may have contributed to frustration and inattention.
IMPORTANCE OF REALISTIC EXPECTATIONS
At school five-year-olds and six-year-olds aren't expected to sit and learn in two-hour blocks.
Home learning may have looked very different, however.
Constant use of digital devices may also have contributed to some of the disruption to their routines.
Want to know what blue light from digital devices really does to your system? 
Click on the button below to read St John Bosco College Engadine student Emilia Danne's award-winning essay on online learning and health.
TIPS TO SUPPORT YOUR CHILD'S TRANSITION BACK TO FACE-TO-FACE LEARNING
Take the anxiety out of a return to school with these simple strategies:
Start to return to regular routines
Discuss with your child what to expect when they return to school
Talk to your child about how they feel about returning to school
Increase your child's opportunities for social connection with their peers
Communicate any concerns you may have with your school
By: JADE RAMIREZ