The 2021 International Day of the Girl Child – on Monday, 11 October – marks five years since the United Nations' Gender Equality Forum called for governments, corporations and change-makers around the globe to make bolder moves towards gender equality.
It is also a perfect time to shine a light on the many women leaders who have called Bethlehem College Ashfield their school since it opened 140 years ago.
The college's alumni are trailblazers in education, medicine, law and the arts.
"From the moment you walk through the doors and engage with the staff and students, it is obvious that this is a unique and exceptional place" – Principal Ann Freeman
A PROUD HISTORY
Rosina Burns, a graduate of the class of 1900, was the first woman in Australia to gain a Masters degree in education, completing her studies in 1928.
By the 1940s, fellow alumni Barbra Kearns had become the first woman to graduate from the Sydney Conservatorium of Music as a Professor of Music. She is also believed to be the first Catholic woman to join the Sydney Symphony Orchestra.
The 2006 Pulitzer Prize-winning author Geraldine Brooks was equally lauded in her earlier journalism career. She received the Overseas Press Club Award for best coverage of the Gulf War with her husband Tony Horwitz.
That same year, fellow alumni Justice Deirdre O'Connor became the first woman appointed to the Federal Court of Australia. She was also the first woman to be appointed full-time to the NSW Law Reform Commission.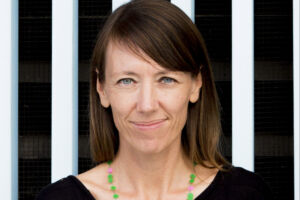 REMEMBERING HER DAYS IN THE OLD SCHOOL YARD
Former Bethlehem student Rachel Neeson, a founding member of award-winning architect firm Neeson, Murcutt +Neille, led renovations of the school from 2016. 
When the project was completed in 2019, Ms Neeson told Sydney Catholic Schools it had felt a bit like remodelling the family home.
"It was a huge privilege," Ms Neeson said. "When they've given you so much, it's great when you're able to augment their lives through the skills you've learned as a professional."
Ms Neeson remembers the school as inclusive and multicultural, a place where students were straight-forward and honest and teachers were encouraging.
SCHOOL TODAY
Current Principal, Ann Freeman, said the school's traditions – and an ethos of charity and compassion – had provided a sense of belonging and meaning to generations of students.
"I am humbled by the fact that so many have gone before me, both as leaders and as students" – Ann Freeman
"Good traditions evolve and change, leading to new opportunities and experiences," Ms Freeman said.
"Bethlehem College has the best of both and it is this that makes it the unique place it continues to be."
HONOUR ROLL
Here are some of the Bethlehem College graduates whose career choices have landed them places in history and the national consciousness.
Barbara Kearns

First woman to graduate as Professor of Music at the Sydney Conservatorium of Music

Barbara Perry

Member of the Legislative Assembly, Member for Auburn, Minister for Western Sydney, Minister for Juvenile Justice, Minister for Assisting the Premier on Citizenship

Danielle Brogan

Australian football player, former Young Matilda

Dr J Fotheringham

First female doctor to win the Pasfield Prize for Proficiency and the Gordon Craig Prize for Surgery and Surgical Anatomy

Geraldine Brooks

Pulitzer Prize winner for her novel 'March', author of many books, previously political correspondent for the Wall Street Journal in Bosnia, Somalia and the Middle East

Justice Deirdre Frances O'Connor

Lawyer and former Judge of the Federal Court of Australia, past president of the Australian Industrial Relations Commission

Kathleen Ann Gorham (Ann Sommers)

Ballet dancer with many companies of note including the English Ballet Rambert and Grand Ballet du Marquis de Cuevas in Paris, she worked in close association with

Sir Robert Helpmann

Mascotte Ralston

One of the first Miss Australia finalists and a Hollywood actress from 1916

Monica Attard

ABC News and Current affairs journalist and Media Watch presenter, Order of Australia for Excellence in Journalism

Natalie McNamara
 

Former Director of Human Resources for the Catholic Education Office Sydney (now Sydney Catholic Schools), Member of the Order of Australia for Service to Catholic Education

Rachel Neeson

Accomplished Sydney architect and joint winner of the Wilkinson Award for the best house in NSW

Rosina Burns

First female to be awarded a Masters in Education in Australia

Zita Antonios

Lawyer, former Race Discrimination Commissioner, member of the Veterans Review Board