More than 500 creative and performing arts students and teachers from Catholic dioceses across NSW took part in Sydney Catholic Schools' inaugural four-day Arts Virtual Masterclass.
Sydney Catholic Schools' creative and performing arts specialist, Eva Spata, said the HSC exam preparation courses were taken online due to the current COVID-19 climate.
According to Ms Spata, the online program was a resounding success and will be repeated in 2022.
"We look forward to providing these again next year!" – Eva Spata
"We have decided that every September holiday the masterclasses will be on zoom, rather than face to face," said Ms Spata.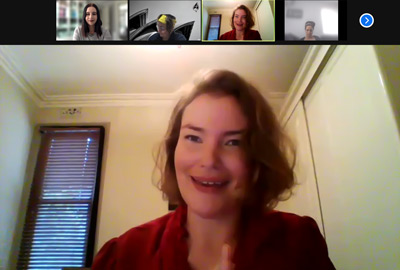 Online HSC Arts Masterclass
"With the current conditions, the ability to provide them virtually meant that we could share with our counterparts across the state," Ms Spata said.
"We were fortunate to have industry experts and arts practitioners delivering each workshop, to prepare our HSC students."
These included literacy consultant Dr Trish Weekes who delivered a workshop on HSC Music 1 aural exam and Sydney Catholic Schools' education officer Mary-Anne Boutros who delivered a workshop on the HSC Visual Arts written exam.
Indigenous Australian dancer, television presenter and choreographer of Bangarra Dance Theatre's Terrain, Francis Rings, was among the workshop facilitators for the HSC Dance written exams.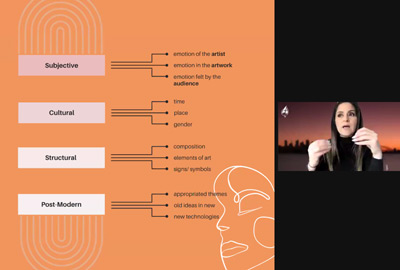 "It has been a marathon for our Drama students, covering six plays," said Ms Spata.
The facilitators were:
Illuminate Educate's Anne Wilson (presented on

Neighbourhood Watch

by Lally Katz)

Laurence Coy (presented on

Norm and Ahmed

by Alex Buzo and

The Removalists

by David Williamson)

Anni Finsterer and Bonney Djuric OAM (presented on

Parramatta Girls

by Alana Valentine)

Belvoir Street Theatre's Chelsea Zeller (presented on

The Lieutenant of Inishmore

by Martin McDonagh)

Lambert House Enterprises' Les Solomon, Rachel Marley and Georgia Brindley (presented on The Shape of Things by Neil LaBute)
"In addition to these, resident playwright Pete Malicki ran IP Performance and Scriptwriting workshops for our Year 11 cohort," Ms Spata said.
By: NIKOLA POZDER