Domremy College sports stars Gabby Gregg, Chloe Gao and Adelaide Marshall did their school proud at the 2022 NSW All Schools Championships.
The trio picked up a slew of medals in tennis, diving and sprinting, respectively, at the Championships.
Mrs Antoinette McGahan, Principal of Domremy College Five Dock, praised the young women for proudly representing their College "with enthusiasm and passion".
"We are absolutely delighted with their performance and their ability to shine their light doing what they love," Mrs McGahan said.
"The Domremy College community congratulates the girls on their dedication, achievements, and their demonstration of a growth mindset."
"They are to be highly commended for their determination to strive for excellence in their sports" – Principal, Antoinette McGahan.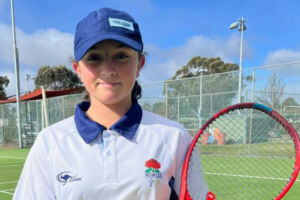 Love, Ace, Set…
Year 10 student Gabby Gregg has played in many external tournaments, the latest, the 2022 Garden City ITF Junior Championship played in Christchurch, New Zealand between 3-7 October, saw her win the 18U Girls singles.
She was a standout player in the NSW All Schools Tennis Championships earlier in the year, winning every set and match against girls two years her senior.
"I was really enjoying myself throughout the event [NSW All Schools Tennis]," Gabby said.
Her latest win in New Zealand elevates her personal ranking and is another stepping stone into higher level competitions going forward.
"We are very proud of Gabby and will continue to follow her as she rises in the tennis ranks," said Mrs McGahan.
Gabby started playing tennis at age eight and, prior to her latest win at the ITF Junior Championships, had an Universal Tennis Ranking of 9.20.
Gabby is the state's top female player in the 16 years and under age group. Her favourite tennis player is Ash Barty, who she described as "a great person on and off the court" and "a great role model to all people, tennis players or not."
"I was really enjoying myself throughout the event [NSW All Schools Tennis]." – standout tennis champion Gabby Gregg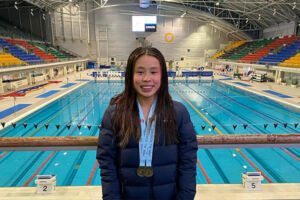 Diving to new depths
Chloe Gao, in Year 9, placed first in both the Under 14 Springboard and Under 12-14 Platform categories and will now compete at the School Sport Australia Diving Championships in Brisbane in November.
"There were many great divers in the competition and any of us could have taken the title, so I feel very blessed and honoured (to have won)," Chloe, who trains daily up to 25 hours a week at the NSW Institute of Sport, said.
A relative newcomer to the sport, Chloe started diving at the end of 2019 and enjoys "the thrill of jumping from such heights and the challenges when learning new dives".
"I am happy because I won not just for myself, but on behalf of Domremy and Sydney Catholic Schools" – diving talent Chloe Gao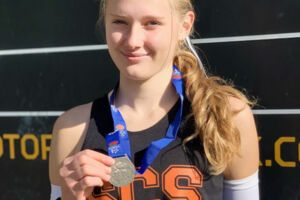 Sprinting to success
For Year 11 student Adelaide Marshall, the last 400 metres of the NSW All Schools Cross Country in June saw her sprint from fourth to second place against 45 competitors, with a personal best time of 16:23 minutes.
"I was thrilled to have made nationals in the 800 metres," Adelaide said. "I am mostly a middle distance runner but challenged myself to improve my cross country running."
In the September school holidays, Adelaide competed at the NSW All Schools Championships placing 3rd in the 400m with a new PB of 56.88, and 2nd in the 800m with a new PB of 2.14.
Adelaide started running with Little Athletics at seven years of age and now trains with two coaches, six days a week, undertaking a combination of running and strength training.
"I enjoy what running has brought me, both mentally and physically," she said. "Running is also a good stress release from the demands of Year 11."
She will now compete in the Australian All Schools Championships in Adelaide, South Australia, in December.
"Running has taught me the importance of discipline, perseverance and the fundamentals of living a healthy lifestyle" – cross country sensation Adelaide Marshall
By: JUDE THOMAS