Students at McAuley Catholic Primary School Rose Bay showed that their sense of social justice runs deep by assembling emergency water filters for use in central African refugee camps.
The year 5 and 6 students drew on the scientific principles of water filtration to build the filters with volunteers from the Origin Foundation's water works program on World Water Day.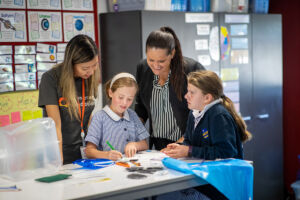 The students also learnt about the health impacts of poor water accessibility and sanitation on communities around the globe hit by conflict and natural disasters. They also came up with the designs for more permanent water filters.
Principal Nicole Jones said the project empowered students to think and act as global citizens, and to help reduce outbreaks of water-borne disease.
"Our students will effectively be improving the health and well-being of an entire community" – Nicole Jones
Real-world impact
The filters will be delivered to communities in Uganda by the foundation's partner charity Lifewater, which teaches them how to install and use the devices.
"It's so wonderful for our students to take on this challenge and make a big difference with a tangible solution like a water filter device to help improve the lives of others who are less fortunate," Mrs Jones said.
"The Water Works program teaches our students that STEM is very much a part of addressing world issues and that they can be part of the solution."