Mary MacKillop Catholic College Wakeley has welcomed six – yes, SIX! – sets of Year 7 twins this school term. 
Perhaps unsurprisingly, it is the first time in the college's 30-year history that there have been so many twins in the one year group.
"It is very unusual," Year 7 coordinator, Maria Messina, said.
"Our history and culture has always been that twins and siblings stay in the same [vertically streamed] house group, but we won't put them in the same homeroom," Ms Messina said.
"We explicitly made that decision so that they can become empowered young women and develop their own identity."
TRANSITIONING TO HIGH SCHOOL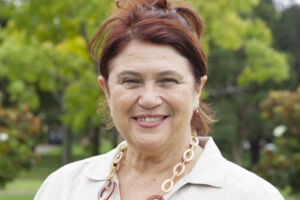 Ms Messina said Year 7 students go on a camp in early Term 1 to help them forge strong relationships with their peers and teachers. Kindness is a key currency at the school, and getting to know the students as learners is a priority for staff.
"Coming into high school, life is very different," Ms Messina said.
"You no longer have one or two teachers. You have up to nine teachers, and you're always moving around the school according to the subjects you are studying."
"It's actually a huge transition, from big fish to little fish" – Maria Messina
"In high school it is about collaborative learning, being flexible, experiencing multiple things at the same time," Ms Messina said. 
"There are a lot of co-curricular opportunities: music programs, eisteddfod, dance, sport, musicals."
MEET THE TWINS
While only two sets of the new twins are identical, the group reflects the culturally diverse community they have joined – they are of Iraqi, Aboriginal, Croatian and Samoan descent.
Sisters Stephanie and Alissa Kakoz said they were apprehensive about starting high school, as their closest friends from primary school were attending other schools. 
They said they looked forward to making the most of the new opportunities at Mary MacKillop, including studying music.
The college is introducing the groundbreaking Amadeus Music Education Program this year. 
The comprehensive music program provides students in Year 3 to 8 with classroom music lessons, ensemble lessons and small group tuition. It includes regular performances and showcases, both within the school and in the wider parish and community.
"When I walked through the gates, I couldn't wait to learn new subjects and introduce myself to new students and teachers," Alissa said.
"My interests are art and music. Music is just amazing because whenever I hear music, it makes me calm and relaxed."
Mary MacKillop Catholic College Wakeley is enrolling now. Click here to start your child's learning journey.