One Sydney Catholic Schools student's work takes the 2023 Mental Health Month theme, We all have a role to play, to heart.
When it comes to promoting positive mental health, Archie Kingham is ahead of the curve.
The Marist College Eastwood Year 11 student has developed an initiative called Mental Mates.
Drawing on the expertise of organisations including headspace, the program offers workshops and talks that give high school students the tools to speak about and improve their mental health.
Archie created the initiative in five months through youth leadership program Max Potential. The program asks participants aged 16 to 18 to deliver a community service pitch that takes an entrepreneurial approach to meeting needs in their local community.
"What inspired me to come up with the idea was that people were constantly saying high school is stressful, and that being a teenager is stressful," Archie said.
"However I never heard my peers commenting on their stress, no matter how obvious it was."
"The idea of Mental Mates is to create a school environment where students no longer feel that there is a stigma surrounding mental health." – Archie Kingham
Archie attributes the reluctance to speak about stress, anxiety and other mental health concerns to a stigma that he hopes Mental Mates will help to break.
The program will include small group workshops and guest speakers to share their experience of mental health to give students pathways to speak openly about their concerns and find help when needed for themselves and others.
"No other organisation, as far as I could find, was actually doing this," Archie said.
During the program's development Archie surveyed his school community and a majority of students said they would be willing to participate in Mental Mates during or after school hours.
He also tested the workshop on his peers during the development, and reached out to student ambassadors and potential partner organisations.
Headspace clinical and operations manager, Michael Cummings, praised Archie's concept in a project video created as part of his pitch.
"After hearing about the project and particularly the level of consultation Archie has gone through to develop the program, I was quite impressed," Mr Cummings said.
"I'd definitely recommend the project to any school."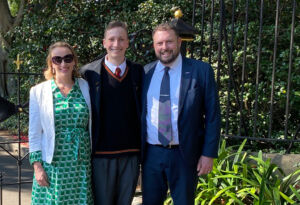 Community Service
Archie was one of only 26 students to receive a 2023 Order of Australia NSW Youth Community Service Award. 
The awards are held annually by the NSW Branch of the Order of Australia Association and recognise exceptional community service by a Year 11 or 12 student.
Archie was recognised for his volunteer efforts for organisations including Scouting Australia and Lifeline, and the creation of the Mental Mates program.
He received a medal and certificate from Governor of NSW Margaret Beazley at a ceremony at Government House on 7 September.
October is Mental Health Month.