Bethlehem College Ashfield Year 8 students – Nia, Emma, Caitlin, Lucia and Benedicta – have imagined an information campaign to protect West Papua's critically endangered leatherback turtles.
Their 'pitch for the planet', at The Orbispace Initiative's (TOI) Future of Female Leaders  entrepreneurial event, included an app for locals and tourists, plus two educational children's books to promote behavioural change and protect the turtle population.
The students were inspired by mentors including Brighte senior product manager Emily Burns and Lisa Fedorenko, an Alberts investment manager.
PITCH FOR THE PLANET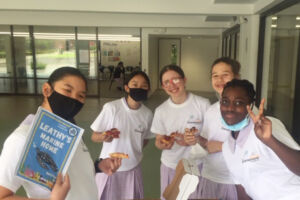 "The Bethlehem team were very engaging in their 'pitch for the planet' and demonstrated that they have the makings of female innovators of the future," Bethlehem's STEM teacher, Jennifer Price, said.
"This activity alone has developed their creativity, critical thinking and entrepreneurial skills.
"They have also developed resume-writing and presentation skills, making use of body language and verbal communication."
"The experiential learning activities that the Bethlehem students are completing, thanks to The Orbispace Initiative, are quite simply amazing" – Jennifer Price
ABOUT TOI
The Orbispace Initiative (TOI) is an Australian charity which develops students' entrepreneurial skills through industry mentor opportunities and events that promote success in a rapidly changing physical and digital landscape.
Bethlehem's Principal, Ann Freeman, said taking part in programs like TOI gave students a competitive edge and "could be the differentiating factor in their future careers". 
"I have been involved in girls' education for over 30 years and I've never seen as much energy, creativity and passion for learning as I have seen here at Bethlehem," Ms Freeman said.