Leaving behind friends and a familiar environment to go to a new primary school can be a daunting prospect, and for students whose parents work for the Australian Defence Force (ADF) it is part of their reality.
For the families whose sometimes transient work lives with the ADF bring their children to St Christopher's Catholic Primary School Holsworthy, there is a dedicated person to help smooth the transition.
Romana Jones became St Christopher's new Defence School Mentor at the beginning of the year. Her role is to answer questions about the school and look out for each student's wellbeing as they acclimatise to a new school and friendships, or changed routines when their parents are deployed.
Funded by the ADF, Romana spends about eight hours each week building rapport with students and helping them identify and connect with peers who also have parents in the armed forces through board games, origami and other activities.  She can also link families to support systems, including tutoring services when their children struggle with the differences in curriculum between states and countries.
It is a unique lifestyle and can come with a bit of anxiety for a lot of parents 
"By primary school age kids have got their friends and networks, so to leave that and move far away can be a tough transition," Romana said. "My role is to be that person who is there so there is a friendly face to help them with their questions and social skills, anything to make that transition as smooth as possible.
"You need to know the lifestyle, because it is a unique lifestyle and can come with a bit of anxiety for a lot of parents. At the moment we're lucky it's downtime for war zones. There aren't as many deployments happening as there were five years ago.
"The highlight for me would definitely be seeing some of the kids come in feeling a bit nervous and then really thrive in this school. You really can feel the sense of community here."
Currently, about 30 families within the school community have one or more parents with defence jobs. With a typical posting between three and four years, and some shorter than this, they often grapple with the transition between country and city environments or interstate.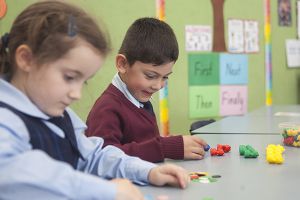 Tara Wood's family moved back to St Christopher's after a stint at a Queensland school where she noticed major differences in the curriculum.
 "When my children came back I was concerned that would be left behind in the classroom, and that wasn't the case at all," she said. "Where the gap was for my eldest son was technology because his other school would use their iPads maybe once a week, but he caught up quickly.
 "Socially, I've found the activities they do with the defence mentor are good for them because they meet other children that they can make connections with and that have had similar experiences.
"One of the things the principal said to me at our enrolment interview was that kids are used to having kids come and go, so it is not a big deal. They might say goodbye for a couple of years and then they're back again. They're enveloped, encompassed back into the fold."
The first six months of a new school is wasted in the classroom if they are not coping with the move and the friendships 
Kristy's children have attended a different school every two years, but plan to extend their stay at St Christopher's so the eldest can take advantage of school leadership opportunities.
She said the defence mentor role was critical to help smooth away any difficulties around students' inclusion and resilience.
"It's essential, because you know they're going to move again and if they don't find a way to cope and mentally prepare, how are they going to manage when life is more stressful as a teenager?
"The first six months of a new school is wasted in the classroom if they are not coping with the move and the friendships. There are adults who have never had to cope with that themselves, so the fact that they recognise the need for the kids and have that support is amazing.
"Having another adult to talk to about it and give ideas on how other parents cope is great. It just speeds everything along."