Students at St Finbar's Catholic Primary School Sans Souci are improving their reading and writing skills through two successful peer mentoring programs.
A writing initiative in partnership with Bethany College Hurstville and a research project that linked students in Years 1 and 4 invited children to act as either mentors or mentees and make friends across traditional grade and age barriers.
Principal Susan Bonello said that while the two programs are very different, they both had benefits for both older and younger students.
[Mentors are] refining the language and then communicating it on, which is going to embed it much better
"For mentees, it's hard to get that amount of one-on-one time in a classroom because there are 30-plus students," Ms Bonello said. "You'll get one-on-one with a teacher but not as intensely or for hour-long sessions."
"For mentors, it might take them a little while to work out how to explain a concept simply, which means it's processing in their head as well. They're refining the language and then communicating it on, which is going to embed it much better."
Creative writing eases transition fears
Emma Djundja, Year 6, has been part of the same mentoring initiative with Bethany College for the last two years and hopes to continue with the program if it runs again this year.
In 2018, she and her mentor worked on a story around the theme 'the door', writing a creative piece about mental barriers. They chose their theme because they felt it was something everyone could relate to, and worked on their story face-to-face and online using Google Docs.
It was a very good support, and I still have those skills today 
"She taught me a lot of new words that I could use, and she taught me about structure, because we had to write an imaginative text," Emma said. "We also talked about exercises to get my brain moving, short stories that we could write before we began. It was a very good support, and I still have those skills today."
Emma is already quite familiar with Bethany – her older sister attends the school – but was enthusiastic about knowing a few additional friendly faces and building awareness of high school staples like lockers and movement between classes before she begins there herself next year.
"Because we got to have lunch with them we also learned about like the canteen, the price range and all that," she said. "It's a good heads up, we did learn quite a bit about the school."
Research project forges friendships
Josh Yacou and Jake Batten, both Year 5, acted as mentors last year as part of a project that invited Years 1 and 4 to team up and improve their reading and research skills.
The boys examined an enquiry question chosen together with their mentee, examining it from every angle using books, online tools and practical exercises.  
"That took a while because our Year 4 students needed some support in coming up with enquiry questions" explained Ms Bonello. "Our new curriculum has a much greater focus on enquiry and so students are still learning what that looks like: deep questions that might require you to investigate at a whole lot of different levels, make comparisons and really show that you understand."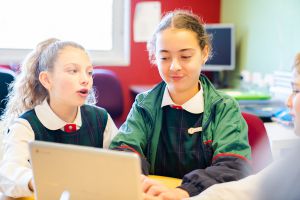 Mentors said choosing a question helped them find common ground with their mentee, and explained they were then given support to investigate their question using books, online resources and more practical exploration.
Josh and Jake said the friendships and communication skills they built through the program mean they'd definitely recommend it to other students.
"We both wanted to do sport," said Jake. "We decided to do athletics, and we learned a lot about how the human body works. We even got a massive piece of paper and he lay down on it and we traced his body and put all the muscles and bones on it."
"It helped me learn how to use technology more, and learn how to deal with younger kids better," said Josh. "I see my mentee on the playground now and we say hello and high-five each other."