From resilience to a powerful 'brain boost', parents, students and teachers are seeing the many benefits of learning an orchestral instrument as part of the groundbreaking Amadeus Music Education Program.
Nidal Abou Arrage remembers the February day in 2020 that her three sons came home with two violas and a trumpet. "They were excited and very cautious," Mrs Abou Arrage said of twins, Joseph and Samuel, and their older brother Anthony.
A year on, she has noticed a remarkable improvement in the attentional skills of the twins particularly. "They are more focused and disciplined," Mrs Abou Arrage said.
Samuel said he felt privileged to be part of the Amadeus program, while Joseph said he liked learning different music notes and songs.
"It has helped me gain more confidence and appreciate what music adds to our everyday lives" – Joseph Abou Arrage
The siblings' schools were among 13 in the 2021 pilot for Sydney Catholic Schools' Amadeus Music Education Program, a game-changing initiative being rolled out to 33,000 students across Sydney Catholic Schools' network of 150 primary and secondary schools in the next two years.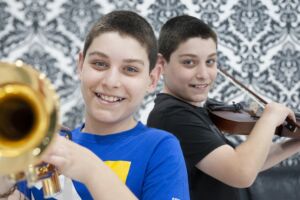 The program has been integrated into the normal school curriculum and provides students in Year 3 to 8 with classroom music lessons, ensemble lessons and small group tuition led by 80 school classroom music teachers and 270 instrumental music tutors.
The specialist tutors bring professional experience from orchestras and ensembles around Australia and the world. 
AMADEUS: A FOUNDATION FOR LEARNING
Phillip Scollard, principal at pilot Amadeus school Holy Spirit Catholic College Lakemba, said the impact on the students' learning has been far-reaching, encompassing improved listening skills, self-motivation and resilience.
"If you can get students to understand that learning is a continual improvement journey it builds resilience," he said.
"Every time they have a music lesson they get that feedback about what to do next, so we're actually developing a mindset for students that is about growth. That's the guts of learning."
Mr Scollard estimates close to 95 percent of his Year 7 students had picked up an instrument for the first time through Amadeus. They are now learning to play the violin, viola, cello, flute, clarinet, saxophone, trumpet and trombone.
WHAT THE RESEARCH SAYS
The system wide initiative draws on decades of research that show learning an instrument can strengthen neural pathways in the brain and significantly improve students' focus, self-discipline, memory and academic success – especially in language and mathematics.
"There's a positive correlation between students who play instruments and how they perform in mathematics … because music is highly mathematical" – Phillip Scollard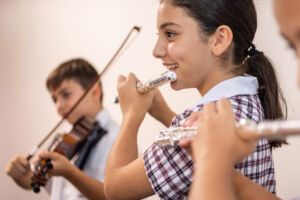 "It's also really great in terms of their brain development and ability to think… [and their] social development, in understanding how to work cohesively in a music ensemble," Mr Scollard explained.
Gai Melville, principal of pilot Amadeus school St Joseph the Worker Catholic Primary School Auburn South, said: "Collaboration is about more than cooperation – together they're making a piece of music come alive." 
"They've got to listen and concentrate," she added. "It permeates all their learning when they can develop those skills."
MUSIC ROAD AHEAD
By the beginning of Term 1 2024, Sydney Catholic Schools' Amadeus Music Education Program will put 52,000 instruments into the hands of every one of the system's year 3 to 8 students.
Executive Director of Sydney Catholic Schools, Tony Farley, said the Sydney Conservatorium of Music, Opera Australia and Sydney Youth Orchestras were among the program's avid supporters.
"Amadeus is a great example of how we, at Sydney Catholic Schools, are applying the scale and collaboration of our educational network to deliver innovative educational programs and new models of learning," Mr Farley said.
Click here  to find out more about the Amadeus Music Education Program and to start your child's musical learning journey.