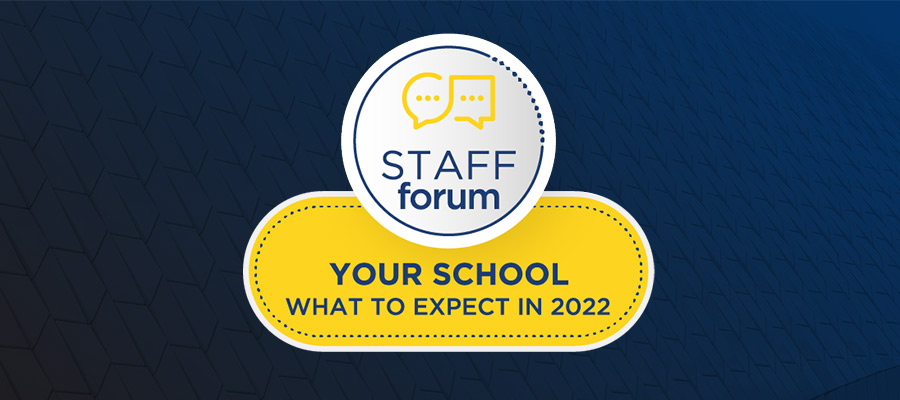 More than 3,000 families and 1,000 staff logged on on Tuesday night to hear about COVID-19, our schools and what to expect in 2022.
In case you missed our latest online forum, you can still watch it via the live link below.
"As information becomes available and the community situation evolves, our school leaders, our teachers and our staff will be walking alongside every member of our community, responding to the challenges of living and learning in the time of COVID" – Executive Director, Tony Farley
COVID, our schools and what to expect in 2022
Everyone here at Sydney Catholic Schools can't wait to welcome back our 73,000 students and more than 10,000 staff.
As part of this welcome, we kicked off the 2022 school calendar with two online interactive forums, for all our families and employees.
Titled 'What to Expect in 2022', both events were hosted by the Executive Director of Sydney Catholic Schools, Tony Farley, and our Chief of Staff, Dr Jacqueline Frost.
Throughout the interactive forum, the audience was invited to vote for topics they wanted the hosts to expand on further.
"These forums are just one way that Sydney Catholic Schools provides our communities with the best and most up-to-date information about the return to school, and the plans that every one of our schools must maintain to ensure safe and thriving school communities," Mr Farley said.
During the pandemic, Dr Frost has acted as as our school's chief liaison and representative with public health authorities and other regulators and is widely acknowledged as a leading expert in the operational management of COVID-19 within schools and education systems.
So, it was with authority and experience that Dr Frost and Mr Farley outlined key details around what we can all expect as our students and staff return to our 150 schools next week. This included:
safety measures and risk assessments;
activities and events (in and out of the classroom);
COVID-19 testing and rapid antigen testing by the NSW Government; and
what happens in the instance that exposure occurs at one of our schools.