Two impressive Technological and applied studies (TAS) teachers at Freeman Catholic College Bonnyrigg Heights, are pursuing life-long passions for woodwork and food technology in the classroom.
From Sydney Catholic Schools' student to teacher 
Alessandrio Lettieri, one of Sydney Catholic Schools (SCS) Technology Teachers, has a rich history and familial ties in construction.
His journey from hands-on work with his father to excelling at BESIX Watpac, the company behind the iconic Burj Khalifa in Dubai, laid the foundation for his teaching career.
"It's fantastic to take everything I learned in construction and then apply the same critical-thinking and problem-solving back into an actual subject. 
"My students are the future innovators of the world. I try as much as possible to bring real-life experiences into the classroom to assist students with making their studies a career path they can actively use," Mr Alessandrio Lettieri said. 
An alumnus of Freeman Catholic College, Mr Lettieri's journey has gone full circle, and he still draws on his experiences growing up in SCS.

"I was always taught to be a good person, compassionate, and respectful which flowed on through high school," Mr Lettieri said. 
Mr Lettieri has a long history of excelling in TAS subjects both as a student and teacher. For his Year 12 Major Work, he built a woodwork model of Disney's Wall-E which was showcased at the Powerhouse Museum.
"Today the Wall-E model is still displayed in the office here at Freeman Catholic College."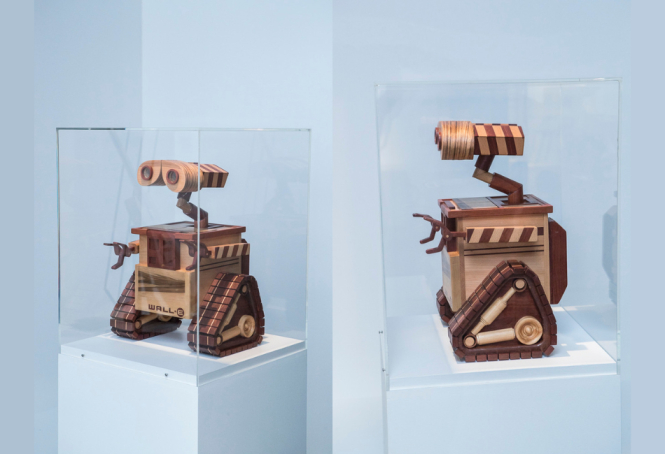 Mr Lettieri's Year 12 Major Work woodwork model of Disney's Wall-E
"I regularly use it as an example for students to explain that when you look at a project, you always need to unpack the logic behind it. They see a physical version of something that is quite technical and then pull their own ideas out of it," Mr Lettieri said.
Childhood dreams become a reality 
Jo-Anne Newton, a distinguished Technologies and VET Teacher, embarked on her teaching journey with an unwavering aspiration that blossomed from childhood dreams of teaching her teddy bears.
Her love for Food Technology during high school years led Ms Newton on a career path in education. 
For Ms Newton, the TAS classroom provides an outlet where students' creative growth and practical application can flourish. 
"Students are more engaged in TAS subjects as there's the practical element that allows them to apply their knowledge and skills in real-world scenarios, fostering a deeper understanding and a stronger connection to the subject matter," Ms Jo-Anne Newton said.
Beginning her tenure at SCS in 1995, Jo-Anne's commitment to nurturing individuals within a Catholic community has been unwavering.
"It's important to me that I work in an environment that values the development of individuals as a whole person. 
"I love my job and I wouldn't change it for the world. I've been doing it for 28 years and am still enjoying it as much as when I first started," Ms Newton said.
SCS currently seeking a range of TAS teachers 
With a commitment to fostering an environment where TAS teachers can thrive, SCS champions a culture of innovation and practical application in real world contexts.