In an Australian first, students at Mary Immaculate Catholic Primary School Bossley Park have been lucky enough to be selected by the One Giant Leap Australia Foundation to germinate and grow seeds that have been to space. 
Yes, you read that correctly – space!
Seeds to space
The exciting seeds to space program is called 'What'll happen with the wattle??!'
One of the students involved in the project, Year 5's Antonio Bagala, says he is looking forward to being a part of history.
"The most interesting part of this experiment is that we are able to be a part of an official project and that our school will receive seeds that have been to space" – Antonio 
In collaboration with the Japan Aerospace Exploration Agency (JAXA), the seeds lived in space for six months before returning to Japan in June and now Australia where they are in quarantine. 
The seeds were due to arrive in time for Science Week but, due to COVID-19, will now splash down in Bossley Park in a couple of weeks' time.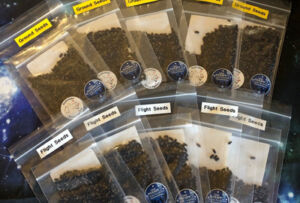 How the project came about
Only 150 schools across Australia have been given the opportunity to grow a wattle from space, and eight are from Mary Immaculate; four are in Year 4, and four are in Year 5. 
"We want the students to take this on and be open and inquiring thinkers," school principal, Lisa Wahab, said.
Students were chosen to be a part of this experiment after writing a proposal and creating a video. Their proposal described why they wanted to have the wattle planted at their school, including how the project encompassed Mary Immaculate's MIPS vision.
"MIPS is short for 'Make a difference, Inspire others and all we do, Problem solve successfully, and Succeed with purpose'," Ms Wahab explained.
How it will work
Along with the seeds from space, students will grow seedlings from the same batch that have not been to space. The growth stages of both seed lots will be documented on an app.
Year 4 student Jacob Bisso, who hopes to become a space scientist one day, spoke of the great learning opportunity he and his peers had been given.
"I feel like it's a great opportunity to learn about space and the outcome of what might happen to the seeds that go to space and the different effects of the ones that stay on earth" – Jacob
The experiment is expected to take at least a year to complete. 
The wattle will then be planted and a map will be created showing the location of all of Australia's space wattle trees.
"It's amazing to think that our students, and our school, may be part of such a historical point in Space Exploration," said Michael Oude Vrielink, a teacher assisting the students with the project. 
"To think that one day seeds may travel from Earth, across space, and to know that we helped discover that it is possible is mind-blowing."
"We are going to plant the wattle on site facing out to the community, and make sure it's a part of history with a time capsule in the ground documenting the experiment" – Principal Lisa Wahab
The One Giant Leap Australia Foundation is a not for profit organisation whose purpose is to advance STEM (Science, technology, engineering and mathematics) education and careers.
Participating Year 4 students:
Jacob Bisso 

Eva Pasapera 

Alessandra Vargas 

Kingston Lo
Participating Year 5 students:
Antonio Bagala

Hailey Butris

Aram Al-Wakeel

Valerie Vu
By: NIKOLA POZDER