Forty-nine young athletes from 20 schools in the Archdiocese of Sydney are set to compete at the NSW Primary School Sports Association (NSWPSSA) Swimming Championships on Wednesday 6 April following a stellar day in the pool.
More than 120 athletes from 52 Sydney Catholic schools competed in the 2022 NSWCPS Swimming Championships at Sydney Olympic Park Aquatic Centre on 22 March. 
Forty-nine swimmers collected 60 medals – 25 gold, 18 silver, and 17 bronze.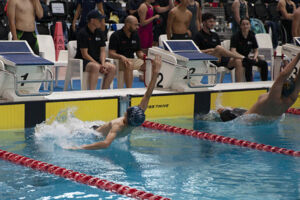 Impressively, they now make up 40 percent of the NSW Catholic Primary School (NSWCPS) MacKillop team progressing to the NSWPSSA Swimming Championships from Sydney Catholic schools.
The MacKillop team draws from schools in five Catholic dioceses in southern NSW.
"This level of competition provides our talented swimmers an opportunity to compete against the best Catholic school students in the state," said Sydney Catholic Schools' Manager: Pre to Post Sport, Damien Kerr.
"Our best athletes are now provided a platform to show how they compare with some of the best in Australia" – Damien Kerr