Sydney Catholic Schools' latest inter-school sports offering – goalball – is proving a huge hit with students, teachers and spectators alike.
The Paralympic sport is being offered at Sydney Catholic Schools as part of the system's first ever Unified All Abilities Interschool Sports Program, allowing athletes with and without a disability to share the empowerment that comes with engaging in sport.
So far, the following seven Sydney Catholic schools have taken up goalball as a sport:
What is goalball and how is it played?
For the uninitiated, goalball is an indoor team sport played by athletes with vision impairment. It has been a Paralympic sport since 1976 and in Term 2 it was introduced as a weekly Thursday sport fixture for secondary students in Sydney Catholic schools. 
The object of goalball is for the player to roll a bell-filled ball into their opponent's goal while the opposing players try to block the ball with their bodies. 
"Goalball is an amazing sport that's really fun to play," Sydney Catholic Schools' Manager for Sport, Damien Kerr, said. 
"Students with and without visual impairment can all join in the action by wearing blackout eye shades to replicate complete visual impairment, and the eyeshades level the playing field for all the athletes."
The Unified All Abilities Interschool Sports Program:

Promotes social inclusion

Provides students with a sense of connectedness
Builds self-esteem
Encourages "giving it a go"
Fosters a"'love of the game"
'It's a truly inclusive sport'
Sydney Catholic Schools' goalball program has been garnering wide praise and admiration from students, teachers and parents alike.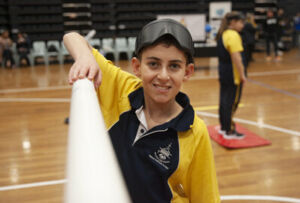 "Goalball is an exciting spectator experience, while helping develop speed, flexibility, and explosive strength in athletes," Mr Kerr said.
"Everyone is loving the sport and that it's a truly inclusive activity that everyone can play together" – Damien Kerr
Spectators this goalball season have included Paralympian Amy Ridley who made her Paralympic debut with the Aussie Belles at the Tokyo 2020 Paralympic Games. 
The Belles' Tokyo campaign ended when they were defeated 10-6 by Turkey in the quarter final.
Sport at Sydney Catholic Schools
Mr Kerr said goalball is just one of many avenues to build Sydney Catholic schools students' confidence and important life skills, such as teamwork and resilience, through sports.
As 2022 unfolds, along with 221 inter-school primary and secondary sports events, new sports will be made available, including more sports offerings as part of Sydney Catholic Schools' first ever Unified All Abilities Interschool Sports Program, so watch this space.
"The great thing about goalball is that you can play right up to a national level, no matter what your prescription reads" – Damien Kerr