Sydney Catholic Schools' Family Educators are once again inviting families to be advocates for the homeless by sleeping, or spending time, outside on Friday, 5 August.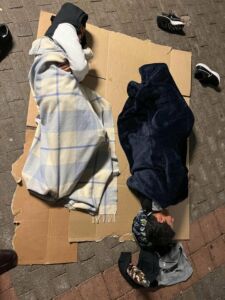 During the event – known as the Family Winter Sleepout @ Home – students will have- nothing but a cardboard base, sleeping bag and a single small blanket as they 'sleep rough' to raise money for Vinnies. 
Campaign coordinator Vivan Mourani, an Education Officer: Church Engagement at SCS, said she felt a strong personal connection to the Family Winter Sleepout @ Home.  
"Having been a volunteering member of St Vincent de Paul Society for many years and witnessing homelessness first-hand, I personally feel very passionate about serving those less fortunate with hope," Mrs Mourani said. 
"Helping others with hope is at the core of my faith and I believe that it's the small things that lead to a big change."
"Vinnies changes lives every day, and who wouldn't want to be part of that?" – Vivian Mourani
How you can end homelessness
Sadly, according to 2021 Census data around 19,400 children aged 0 to 14 years are homeless in Australia. This includes children experiencing hidden homelessness, for example being forced to 'couch surf', living in overcrowded dwellings or sleeping in cars.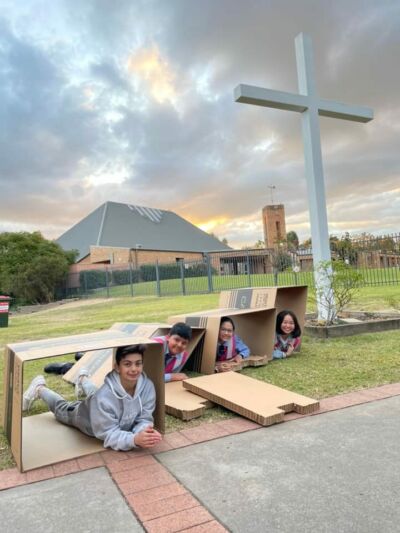 "The Family Educator's Family Winter Sleepout @ Home campaign is our attempt to bring families together to gain a deeper understanding of the realities of homelessness," SCS' Education Officer: Church Engagement, Elsa Manu, said.
Her colleague Bernadette Bridle said "families will participate in a lived experience of being out in the cold, reflecting on how homelessness must feel, discussing what they can do to help, and praying for those who have no secure, warm housing".
The trio are quietly optimistic that together we can raise awareness of winter's cruel reality and do our part to help Vinnies break the cycle of homelessness.
Vinnies' homelessness services include: accommodation; domestic violence refuges; food, clothing, blankets and sleeping bags; counselling and healthcare; and individualised support to address barriers such as debt and unemployment, with the ultimate goal of finding a permanent and safe home.
HOW YOU CAN GET INVOLVED
To register your involvement in Sydney Catholic Schools' third annual Family Winter Sleepout @ Home or to donate, go to: https://bit.ly/3P2rB0O
The Family Winter Sleepout @ Home event has four parts:
Make a card and attach it to a muesli bar or other snack to be donated to Vinnies'

Night Patrol Vans

. The vans provide a meal, blankets, toiletries, snacks, hot beverages and companionship to people experiencing or at risk of homelessness seven nights a week, including in the Greater Sydney area. Last year, the vans provided 84,000 meals.

Make soup together to drink during your family sleepout/sitout. Hot soup is something Vinnies' soup vans usually distribute to the hungriest and neediest in our society. Their dedicated volunteers are called 'Vannies'.

Sleep/sit outside in the cold on only a piece of cardboard and discuss with your family how you are feeling, including sharing some of the harsh

facts

about homelessness in Australia.

Once inside, watch this slideshow and pray together as a family for those sleeping under bridges, on park benches, in doorways or bus stations. You may wish to direct your prayers to Saint Benedict Joseph Labre, the patron saint of the homeless and downtrodden, who wore the rags of a beggar and shared his food with the poor.