Much to the surprise and delight of those around her, Year 6 student Serena serenaded her family on the Viola at a surprise 50th anniversary event. 
Serena has been learning to play the "the big violin" as part of Sydney Catholic Schools' Amadeus Music Education Program – one of the biggest, most comprehensive and ambitious investments in quality music education ever undertaken in Sydney's schools – and no one is prouder of her musical progress than Mum.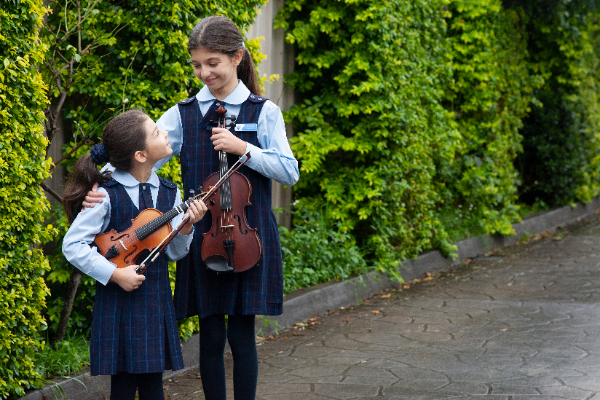 According to Tanya Rizk, music has positively changed the life of not just Serena but sister Olivia, who also attends St John Vianney Catholic Primary School Greenacre.   
She credits it all to Amadeus, which is putting more than 50,000 instruments into the hands of every Year 3 to 8 student in Sydney Catholic schools. 
"Olivia has always been a shy girl, but not this year," Ms Rizk remarked glowingly. "It shows when she brings out her Violin and starts to practice."
Ms Rizk said taking part in Amadeus had given both her daughters a newfound calm, confidence and a love of music. They were becoming more attentive listeners, as well.
"When they are playing an instrument, it's like they have gone into a different mode completely. They've gone quiet, and they're in that atmosphere of listening," she said.
"My nephew and niece have also just started at St John Vianney and when they come over, it's like I've got an orchestra playing in the house. It's really beautiful" – Amadeus parent Tanya Rizk
ABOUT AMADEUS
The Amadeus Music Education Program is currently in 58 Sydney Catholic schools and will be rolled out to 40 more in 2023, following the successful large-scale launch of the program last November. 
All 150 Sydney Catholic schools will offer the Amadeus program by 2024.
What is involved
The Amadeus Music Education Program offers:
Classroom music lessons led by a specialist music teacher (Kindergarten to Year 8)

Small group student instrumental tuition (Years 3 to 8)

Student instrumental ensemble lessons (Years 3 to 8)
Students receive an instrument, starting with a string instrument in Year 3. 
Amadeus will be led by 80 school classroom music teachers and 270 specialist music tutors. These music tutors will bring professional experience from orchestras and ensembles around Australia and the world.
How it looks in schools
Danielle Fuller, Sydney Catholic Schools' Education Officer: Music K-12, said Amadeus students take part in 30 music lessons in their first year of the program. 
Students also learn to play together in either a String Ensemble or Concert Band. Plus they learn arrangements of music from different genres, how to follow a conductor for dynamics and expression, and gain experience performing as an ensemble for others. 
"The response from schools, parents and students has been overwhelmingly positive as we begin to see and hear performances taking place in our schools," Ms Fuller said.
"Students are already performing beautifully at assemblies and year group meetings"  – Sydney Catholic Schools' Education Officer, Danielle Fuller
Opera Australia, Sydney Conservatorium of Music, Sydney Youth Orchestras applaud Amadeus
Opera Australia, the Sydney Conservatorium of Music and Sydney Youth Orchestras have also thrown their support behind Amadeus, acknowledging it as a major injection of music education for Sydney.
"The Amadeus program is visionary and of enormous value to the broader orchestral world," Lyndon Terracini, the Artistic Director of Opera Australia, said.
—
Click here to find a Sydney Catholic School and start your child's musical learning journey.