Sydney Catholic Schools' inaugural Winter Season Championships came to an exciting close today with winners crowned in football and netball. 
Twelve secondary schools from across the Archdiocese of Sydney competed in Sydney Catholic Schools' first ever Football Championships and Netball Championships.  
Damien Kerr, Manager: Sport Pre to Post at Sydney Catholic Schools, said the day was a celebration of both students' abilities and the hard work of teachers and support staff. 
"It's just magnificent to see students from all corners of the [Sydney] Archdiocese, the best of the best, able to come together and showcase the Catholic education sporting community" – Damien Kerr 
"Events like this don't happen without the support of the teachers — it's the passion, the time they put in and everything else around it that makes it a great experience for our students," Mr Kerr said.
FOOTBALL LIGHTS UP EDENSOR PARK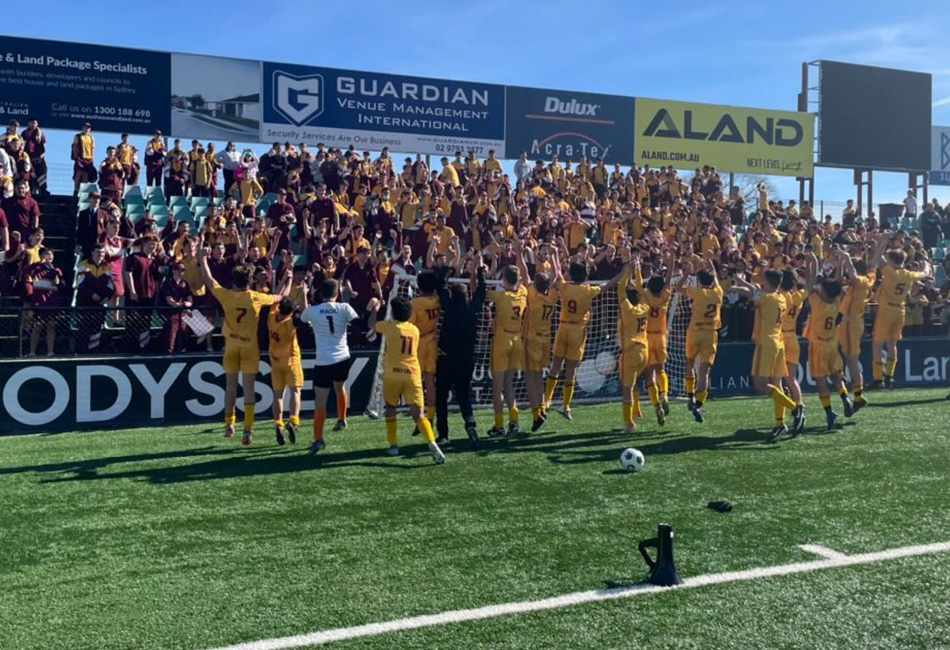 On what was a glorious winter's day, the crowd was treated to a smorgasbord of footballing talent across six games at Edensor Park's Sydney United Sports Centre. 
St Ursula's College Kingsgrove triumphed in the Senior Girls, with Holy Cross College Ryde taking out the Senior Boys title. 
Marist Sisters College Woolwich claimed the trophy in the Junior Girls and Christian Brothers' High School Lewisham were victorious in the Intermediate Boys. 
Marist Catholic College Penshurst were the big winners on the day, coming out on top in both the Junior Boys and Intermediate Girls. 
Marist Penshurst teacher Jordan Russo said the College was incredibly proud of their students' efforts on the day and throughout the season.
"It's great that they get the opportunity on a scale like this and with a crowd to show what they're made of and they did a terrific job," Mr Russo said.
"I've been really impressed with the format of the competition, with the students being able to come out to a fantastic facility in front of their peers and for parents who are also able to watch on the livestream — it's only good things" – Jordan Russo
NETBALL RAISES THE ROOF IN HOMEBUSH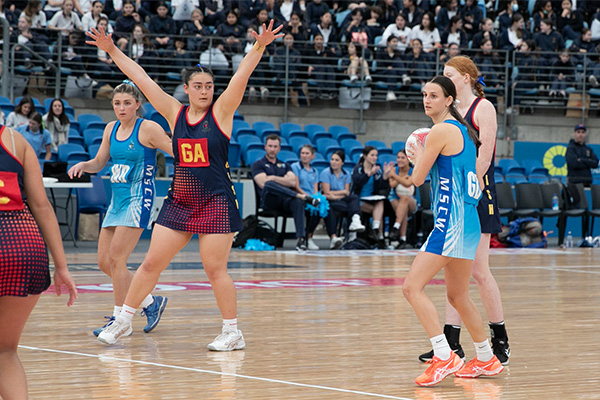 In Sydney Olympic Park, six schools battled it out on the netball courts in front of an extraordinarily energetic crowd at Ken Rosewall Arena. 
Aquinas Catholic College Menai were named the winners in the Junior Girls, St Ursula's College Kingsgrove lifted the silverware in the Intermediate Girls, and Marist Sisters College Woolwich took out the Senior Girls championship. 
Students from St Therese Catholic Primary School Padstow and Holy Family Catholic Primary School Menai were also in attendance, adding their voices to what was a relentless wave of noise throughout the day. 
Mia Rogers, Marist Woolwich's captain and player of the match in the Senior Girls, said her team saved their best performance for when it mattered.
"It was a tough game and Our Lady of the Sacred Heart put up a good fight," Mia said. 
"Our girls had their best game of the season and I'm really proud of them" – Mia Rogers
FULL RESULTS
Football
Junior Girls: Marist Sisters College Woolwich 8-1 Mount St Joseph Catholic College Milperra 
Junior Boys: Marist Catholic College Penshurst 0-0 Freeman Catholic College Bonnyrigg (4-3 on penalties) 
Intermediate Girls: Marist Catholic College Penshurst 3-1 Clancy Catholic College West Hoxton
Intermediate Boys: Christian Brothers' High School Lewisham 4-0 Marist Catholic College Kogarah
Senior Girls: St Ursula's College Kingsgrove 3-0 Freeman Catholic College Bonnyrigg
Senior Boys: Marist Catholic College Kogarah 0-0 Holy Cross College Ryde (3-2 on penalties) 
Netball 
Junior Girls:

Aquinas Catholic College Menai 43-14

Mount St Joseph Catholic College Milperra

Intermediate Girls:

St Ursula's College Kingsgrove 34-31 Brigidine Catholic College Randwick 

Senior Girls:

Marist Sisters College Woolwich 36-25 Our Lady of The Sacred Heart College Kensington