Sydney Catholic Schools is looking for passionate and enthusiastic classroom teachers to join our growing Amadeus Music Education Program team. 
There are multiple opportunities available, working from one to five days, for suitable Music teachers  who have an ability to teach Dance and Drama.
A teachers' perspective
Peta Haynes arrived at St Joseph's Catholic Primary School Moorebank just as the groundbreaking and highly-anticipated Amadeus Music Education Program was being rolled out in the school.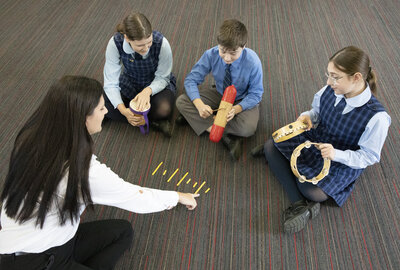 Ms Haynes said she has found implementing the program in her school both enjoyable and rewarding. 
"I have been a music teacher for 30 years and have always enjoyed teaching and encouraging students to learn about all aspects of music – the Amadeus project is an amazing extension of that," she said. 
"The fact that the Amadeus project combines both practical and classroom teaching, to give students a complete experience, is certainly an honour to be a part of" – Peta Haynes
ABOUT AMADEUS
Sydney Catholic Schools' Amadeus Music Education Program is one of the biggest, most comprehensive and ambitious investments in quality music education ever undertaken in Sydney's schools.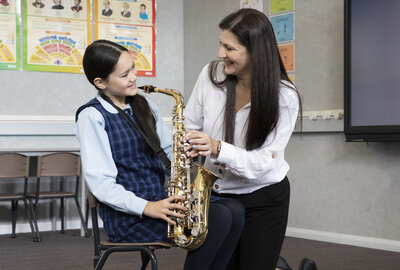 The program is being rolled out to 33,000 students across Sydney Catholic Schools' network of 150 primary and secondary schools. 
The Amadeus program is currently in 58 Sydney Catholic schools and will be rolled out to 40 more in 2023, following the successful large-scale launch of the program last November.
All 150 Sydney Catholic schools will offer the Amadeus Music Education Program by 2024.
Amadeus will be led by 80 classroom music teachers and 270 specialist music tutors, who bring professional experience from orchestras and ensembles around Australia and the world.
What is involved
The Amadeus Music Education Program offers:
Classroom music lessons led by a specialist music teacher (Kindergarten to Year 8);

Small group student instrumental tuition (Years 3 to 7); and

Student instrumental ensemble lessons (Years 3 to 7).
Students also receive an instrument, starting with a string instrument in Year 3.
DIFFERENT STROKES FOR DIFFERENT FOLKS
Growing up in South Africa, Peta played several instruments and sang in choirs and ensembles however she shied away from a life of performing, preferring to see others take the spotlight.  
"I take joy in teaching people and seeing them up on stage performing and doing what they love, knowing that in some small way I have enabled them to do this" – Peta Haynes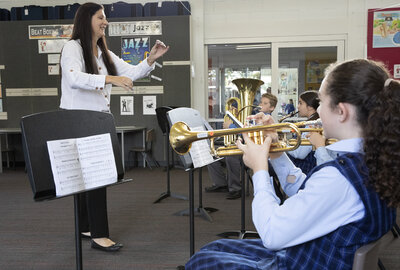 Generally, the piano, guitar, flute, violin, and trumpet are the most popular instruments to learn, but the recorder holds a special place in Peta's heart. She can play three types.
"People often laugh at the idea of a recorder being a 'serious' instrument but when played correctly it can be beautiful," Peta insisted.
"I used to play the organ at Mass and am self taught in piano and guitar. My main area is training soloists and choirs. Taking a song and interpreting and expressing it in a variety of different ways is very exciting."
BENEFITS OF MUSIC

Research shows that music:

Boosts brain power
Promotes wellbeing
Improves language and maths skills, memory and coordination
The power of music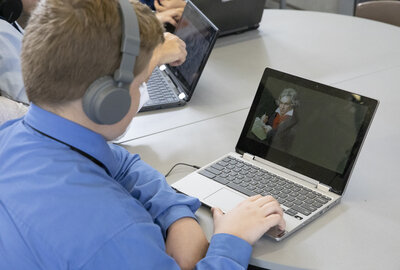 "One of my best moments in teaching was when a parent came up to me and said that their child had been having a rough time, and that today they felt better 'because Ms Haynes had let him play on the xylophone'," Peta said.
She recounted another time when "a very anxious and shy child" felt uncomfortable beatboxing in front of her, so he videoed himself at home and then sent it to her to watch. 
"He was fantastic!" Peta said with a smile.
"Seeing his eyes light up and getting into the groove of the genre was amazing.
"Music did that for this child and that is something very valuable."
WE ARE HIRING!
Sydney Catholic Schools seeks Classroom Music Teachers with an ability to teach Dance and Drama. 
Essential criteria:
An enthusiastic educator, driven to inspire children to explore Music, Dance and Drama  

Competence in teaching Music, Dance and Drama including Composing, Performing and Appreciating

Ability and willingness to lead vocal ensembles 

Practice informed by a knowledge of contemporary educational research on how students best learn

Confident with the use of relevant technologies

Tertiary qualifications in the area of primary or secondary education with extensive Music experience and/or qualifications, plus the ability to teach Dance and Drama

Experience as a Classroom Music, Dance or Drama Teacher in primary or secondary schools

Ability to contribute to high quality student performances

A willingness to support the Catholic ethos of Sydney Catholic Schools, and to contribute to music required for masses and liturgical celebrations when required