Bethlehem College Ashfield students have been named the winners of the 2020 NRMA Future of Transport Challenge for an app giving people with a disability better access to trains.
The Transport 2 U app they developed allows users to request real-time assistance at stations along the Leppington line. Wheelchair users can book a ramp, reducing the time they wait to board a train.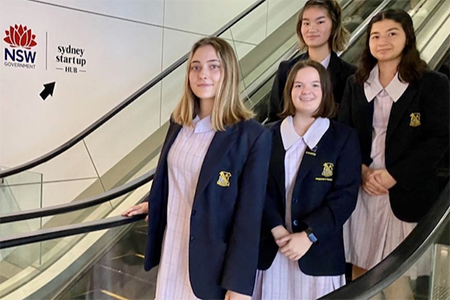 Bethlehem College year 10 students embraced the Science, Technology, Engineering and Mathematics (STEM) challenge.
They were Georgia Alexakis, Shania Pedavoli, Naomi Huie, Sophia Trovato and Alexandra Ventura.
Students fielded five minutes of unseen questions from a panel of transport industry judges after presenting their work.
 "Throughout the project we gathered invaluable STEM skills, like coding, app development and teamwork"  – Alexandra
Judges praised the app's usefulness and ability to be rolled out for other types of public transport. The students said the experience was valuable.
"We were challenged to think like an entrepreneur," Alexandra said.
Holy Cross College Ryde was also a finalist in the competition. Their PTG (Post COVID Transport Gear) vending machines stocked personal magnetic and suction-powered handles. These were designed to keep Sydney train commuters germ free by avoiding high-touch surfaces.