A dynamic education master plan for Catholic schools in Matraville and Pagewood has been fast-tracked, with the new Sacred Heart Catholic Primary School Matraville to open a year ahead of schedule in January 2023.
The school is an amalgamation of the current St Agnes' Catholic Primary School Matraville and Our Lady of the Annunciation (OLA) Catholic Primary School Pagewood. Located on the St Agnes Matraville site, Sacred Heart will cater for 420 students from Kindergarten to Year 6.
Construction of a two-storey building of purpose built flexible learning spaces will be completed by December.
Executive Director of Sydney Catholic Schools, Tony Farley, said the accelerated amalgamation would allow students to begin the 2023 school year under one identity and with equal access to the new facilities.
"We're very excited to see the Sacred Heart community realised ahead of schedule" – Tony Farley
"We trust our students will enjoy the adventure of new facilities, classmates, teachers and new learning experiences," Mr Farley said.
"This master plan is a multi-million-dollar investment in education that will allow students to thrive in a dynamic and faith-filled environment and become the next generation of change-makers in their communities."
Parents attended an information session on Wednesday 4 May, where the school's new uniforms, crest and name were unveiled.
Melissa Barnes' daughter Leilani will transition from OLA to Sacred Heart next year.
"With a new school comes new resources, opportunities and experiences – and that's fantastic" – Melissa Barnes
"As a parent, I am excited to expand our school and parish community," Ms Barnes said.
"My child is excited to make new friends and memories in her new school. I am confident every decision has been made with our children and the wider community in mind."
School name honours history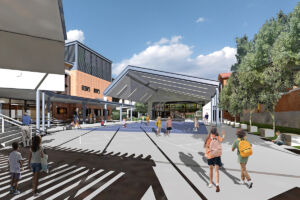 Sacred Heart Principal Rosemary Andre said the name acknowledges the founding order of both OLA and St Agnes', the Daughters of Our Lady of the Sacred Heart.
"Parents have responded very positively to the early amalgamation: they especially loved the new uniforms and school name which keeps the charism of both schools alive," Mrs Andre said.
"We're very excited about the new resources and opportunities for collaboration and excellent teaching and learning ahead. We also look forward to creating a new vision for the school in consultation with staff, parents and students."
The broader Pagewood Matraville master plan also includes Champagnat Catholic College Pagewood's transition from a secondary school for boys' in years 7 to 12 to a co-educational school.
The first cohort of girls will also join Year 7 at the college in 2023. The college will use the current OLA Pagewood buildings for classes as the secondary school continues its transformational building program.