Children at St Declan's Catholic Primary School Penshurst have been encouraged to follow their dreams by one of their school's most accomplished alumni.
Her Excellency the Honourable Margaret Beazley, Governor of NSW, visited her alma mater on 25 October to speak to students, answer their questions, and remind them that they too can aim for the highest offices in Australia.
She was joined by Bishop Terence Brady and Georges River Mayor Kevin Greene, both of whom also attended St Declan's, as well as other VIP guests including Executive Director of Sydney Catholic Schools Anthony Farley.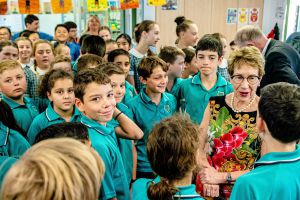 "It is such a pleasure to be back at St Declan's, where my educational and social roots were laid down and my values were formed," said Her Excellency.
"St Declan's remained my mother's community right up until her death aged 94, with friendships spanning nearly 70 years. Although my life has gone in directions that I never imagined all those years ago, St Declan's has always remained very much part of my spiritual heart and home."
"Of course, at the time, it was all about playing in the playground before school, reading, writing and 'rithmetic', and going to church on Sunday."
Mr Farley used the Governor's story as a chance to remind St Declan's students that a great education will set them up to achieve whatever aspirations they set their minds to for the future.
It is such a pleasure to be back at St Declan's
Students cited goals like becoming a lawyer or psychologist when asked about their current plans post-school, and said they had enjoyed preparing questions for the governor to answer as part of a classroom Q and A.
"It's really inspiring to see that a normal person that went to our school can go on to do all this really big stuff," said Year 6 student Lily Jones.
"I wrote one of the questions, but one of my friends is asking it. I wanted to know in the year that the Governor went to law school was it a year that they accepted females? I wanted to know what kind of discrimination she got if she got any, and how she got over that and kept on going."
Other student questions asked the Governor about her favourite books, key personal and her plans for her rest of her time in the role.