With memorable goals and help from water polo's elite, Sydney Catholic Schools' (SCS) first inter-school water polo competition is already making a splash.
Zenn Pemberton scored the first-ever boys' water polo goal in the Sydney Catholic Schools competition for Marcellin College Randwick, just hours after competing at the State Championships Nippers (U9-U12's) in Manly.
The goal gave Marcellin an early lead over Holy Cross College Ryde in the weekly competition, which launched on 24 February.
"I am confident that the weekly competition will only get bigger and better as time goes on" – Sean Mullaly
Zenn's father Joel said his son's natural water abilities transferred well to water polo, which had many benefits.
 "You can find with other sports like league, it can favour the bigger kids, but you still want them engaged in team sport and having the camaraderie," he said.
"It is an even keel in the water, size does not matter."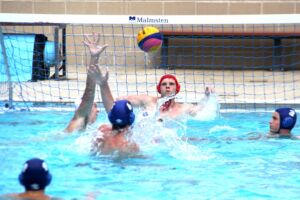 Holy Cross College Ryde PDHPE teacher, Claire Younan, has water polo success in her genes and is proud to coach the college's first water polo side.
Her dad Ray Younan played for the NSW Senior men's team and has 14 national caps to his name.
 "I have learned from him and taken on the passion," Miss Younan said.
Former Australian coach Greg McFadden, who is considered water polo royalty with 189 national appearances, also joined one of Holy Cross' training sessions.
"This was a great experience for the students," Miss Younan said. "We are already getting students wanting to know more about  the water polo competition, so I think the numbers next year will double if not triple."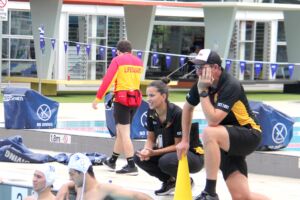 Four boys' and six girls' secondary schools in the Archdiocese of Sydney are currently part of the inter-school water polo competition.
SCS' Specialist Pre to Post Sport, Sean Mullaly, said this was set to grow as interest in the game built.
The competition has also fostered new partnerships with local water polo clubs including Balmain and Drummoyne. The partnerships allow students who already play to represent their school in the sport, while first-timers can also join in the fun.
"Water polo is such a popular Olympic sport and so many of our students are involved in it outside of school," Mr Mullaly said.
 "I am confident that the weekly competition will only get bigger and better as time goes on."