Seven demountable classrooms have made the 761 kilometre journey from St Patrick's College Sutherland to flood-devastated Trinity Catholic College Lismore, where they will help get students' learning back on track.
Principal of Trinity Catholic College Lismore, Jesse Smith, welcomed the warm-hearted gesture of Lismore's sister Diocese.
"The generosity of Sydney Catholic Schools ensures that the 500-plus students that we have in years 7 to 10 can continue to access quality learning in Science and other key learning areas," Mr Smith said.
"We can only say an enormous thank you" – Trinity Catholic College Principal, Jesse Smith
Classrooms a 'remarkable' help
Mr Smith said community resilience has been tested at the dual-campus Lismore school, where all but seven classrooms and the college library were significantly damaged in the February deluge after water levels reached a peak of 14.37 metres.
He said Sydney Catholic Schools' donation – particularly of specialist Science classrooms, "which are expensive and time-consuming to rebuild" – would help provide stability for Trinity's students.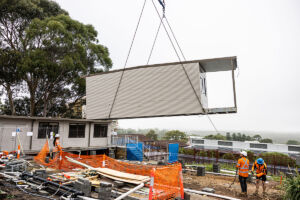 "A lot of rebuilding needs to happen, so to have those demountable classrooms here and operational in the next couple of weeks is just remarkable," Mr Smith added.
"We offer a significant number of senior science classes too, so ensuring the passion for science continues is a priority and this does an enormous amount to help us continue down that path."
St Patrick's College Sutherland Principal, Janine Kenney, said the college community was pleased the donation was of help to the Lismore school.
"It is wonderful that the system can support the present needs of the Lismore community," she said.
Building progress: Take a peek inside Trinity's new demountable classrooms for Science