Sebastian Youseff dreams of being a famous actor.
There are loads of course pathways he could have followed to land his dream career.
With the hope of one day establishing a career as an actor, he chose a Performing Arts ATAR pathway at Southern Cross Catholic College Burwood.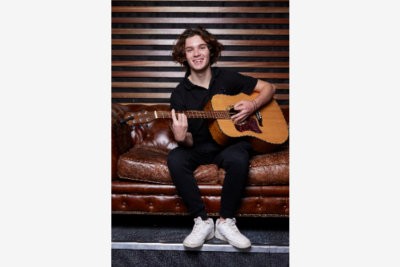 Sebastian (pictured right) said he loved that the College allowed him to tap into his creative side.
"I want to go to NYU Tisch School of the Arts," Sebastian explained. "If not Tisch, then NIDA or WAAPA (the Western Australian Academy of Performing Arts)."
As a first step he is undertaking senior Stage 6 Drama and to complement his passion for the Performing Arts he is also about to complete a Certificate III in Screen and Media at Southern Cross, Sydney Catholic Schools' only specialist performing arts college.
His passion for acting was sparked two years ago when he watched 'The Lighthouse'.
"I thought that was great and joined The Art Umbrella (School of Performing Arts)," Sebastian, who is now in Year 11, said.
"There's nothing better than doing a good performance, and people saying you were great!"
The journey to stardom
Southern Cross is now holding auditions for its 2023 Performing Arts stream. 
Located in the inner-west of Sydney, Southern Cross is offering full-time and part-time enrolments in Years 9 to Year 12 as part of its "Ignite Your Passion" initiative.
"The Performing Arts stream provides a specialist pathway for gifted and talented students with experience in, and a passion for, the performing arts in Music, Dance and Drama," said the Head of Performing Arts at the College, Luke Collins.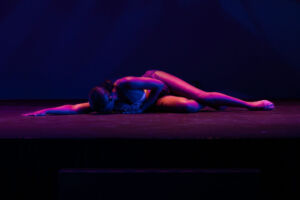 Auditioning now
Prospective students are required to attend an audition on-site as part of the enrolment process. 
For their audition, students may select one performance discipline from the following:
Dance (Classical or Contemporary);

Drama, Music – Instrumental (Classical or Contemporary);

Music – Voice (Classical or Contemporary); and

Music Theatre (Singing, Dancing and Acting).
Creative and performing arts electives
The College also offers three creative and performing arts elective courses for students in Years 9 and 10 in Dance, Drama and Music.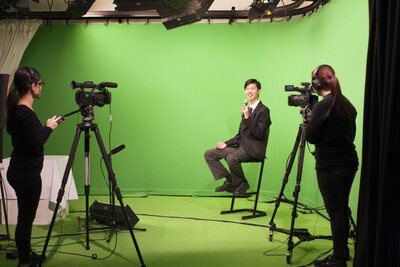 "This provides students with a Music Theatres pathway, in addition to national qualifications in Certificate III in Music Industry, Certificate III in Screen and Media, and Certificate III in Entertainment Industry," Mr Collins said. 
Students specialising in the Performing Arts can utilise a recently upgraded dance studio, a 400-seat auditorium, dedicated recording studio and control room, a green screen room (pictured left), music and drama rooms. All the programs are led by industry experts.
—
Southern Cross Catholic College Burwood is now accepting enrolments for 2023. Click here to nurture and develop your child's inner performer.