A unique approach to STEM education has given students at St Aloysius Catholic Primary School Cronulla the skills and avenue to make a difference in their community.
Students in Year 5 are working with desalination experts in a joint initiative with Sydney Water and Sutherland Shire Council to monitor the quality of water that keeps the local golf course and fields in the area green.
The students have until November to devise an app that will alert the council when the salinity level of the irrigation water, collected in pipes at Gunnamatta Bay and affected by high tides, is too high. The information will allow staff to decide when shut off supply or increase potable water to the fields.
Year 5 students Alessia Cargeorge and Sinead Laney are among 20 students who graphed the variables that will affect water supply to the ovals including tidal flows, heat and rain.
Working with the council on experiments … opens up this whole world of opportunities and makes us wonder what we could do in the future.
"We're surprised how big an impact this issue is having on our environment and water system," Alessia said.
"There are so many different solutions, but also problems we need to fix. It would cost too much to build another pipeline if we wanted to redirect the water, so we've got to think of something that is affordable but also simple to do.
"Working with the council and everyone on experiments and learning about it in class opens up this whole world of opportunities and makes us wonder what we could do in the future. I've thought about going into something science-related for work, but never actually thought I'd get some experience in it this early."
Sinead said her group didn't realise how big an impact water quality had on the way they live and had brainstormed possible solutions.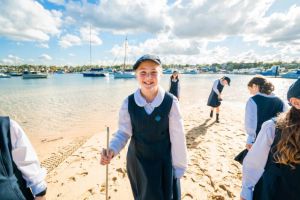 "It's pretty surprising that we as kids could help to fix this world-wide problem," she said. "It's exciting but it's also nerve-wracking because if it doesn't work out you feel responsible."
Principal Elizabeth Ovens said the reality of the project helped to gain and keep students' interest in Science.
"One of the things we're really passionate about is working with industry professionals," she said.
"The students have learnt about [water purification process] reverse osmosis and how the desalination plants work from the experts.  When it's a real project and they're dealing with people who are clever in their field, the kids really hook in."
Like the focus on real-world partnerships, coding and processes that develop students' collaboration and critical thinking skills are a heavy part of St Aloysius' STEM approach. While the school has a specialist STEM teacher, the program is for all students from Kindergarten to Year 6.
"It's not an elite program only for gifted students like it is in a lot of other schools," Mrs Ovens said. "It is for everyone, because you don't know the range and depth of the children's understanding in these fields unless you expose them to it."