Studying at Southern Cross Catholic College has allowed Year 12 student Demetrius Thalasselis the freedom to hedge his career bets.
Demetrius is studying for a Certificate II in Construction, Baking and Hospitality all at the same time.
"My dad is a painter and I like to eat," Demetrius said with a laugh. 
He said during "Hospo", which is his name for Hospitality, he can "be in my own zone, listen to music and dance a bit, and let my food do the talking."
Innovation and Enterprise
The College's Innovation and Enterprise pathway has a special focus on employability through a wide range of career pathways, traineeships and apprenticeships.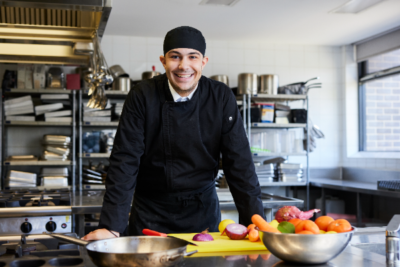 Students are offered the opportunity to complete their HSC along with dual nationally accredited Certificates II or III, in addition to completing the first stage of an apprenticeship or full traineeship by the end of Year 12 across a range of courses.
"You wake up at four or five (in the morning), you drive the distance," said Demetrius, who is a fierce advocate for "doing what you love" and "doing it with your passion."
This is why he is "okay with the hours" because he understands it's part and parcel of achieving his career goals. 
Ignite your child's passions
If, like Demetrius, your child is looking to ignite several of their passions, Southern Cross Catholic College Burwood may be their ticket to success.
Southern Cross provides practical hands-on career pathways to full-time and part-time students from Years 9 to 12 in:
Business and Finance:

Business Services; Information and Digital Technology; and Retail Services.

Community and Services:

Baking; Beauty Services; Early Childhood

Education and Care

;

Education Support

; Hairdressing (Salon Assistant); Human Services (Allied Health); Human Services (Acute Care); and Hospitality.

Creative Industries:

Community Dance, Theatre and Events; Entertainment Industry; Events; Music Industry; and Screen and Media.

Technical Trades:

Automotive

; Construction (Pathways); and Furniture Making.
—
Southern Cross Catholic College Burwood is now accepting enrolments for 2023. Click here to ignite your child's passion/s.