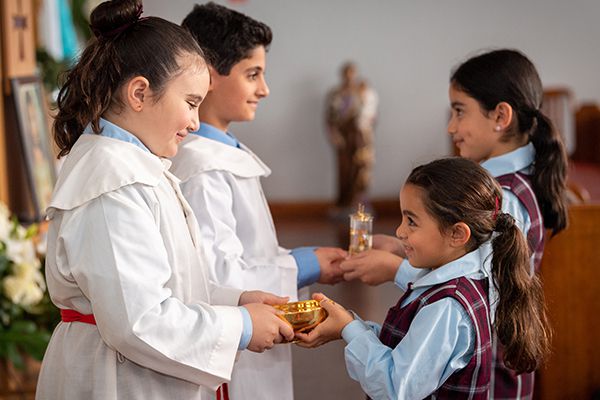 Sydney Catholic Schools provide opportunities for students, staff and parents to know and celebrate their Catholic faith and Catholic identity.
Religious Education is at the heart of Catholic education. It informs all aspects of school life and contributes to the mission of the Catholic Church in announcing the good news of Jesus Christ.
Primary Religious Education participates in the Church's mission of evangelisation to announce the Good News of Jesus Christ. While recognising that parents are the first educators of their children, Primary Religious Education enables faith formation in an environment that develops a deep understanding of the teaching and person of Jesus and the call to discipleship. Primary Religious Education is a partnership of home, parish and school.
The Primary Religious Education Curriculum has been developed with a focus on the ways young children learn. In particular, the storytelling approach of 'Godly Play and The Catechesis of the Good Shepherd' nurtures the natural capacity of young children for curiosity, imagination and wonder. Students are provided with the opportunity to engage with the stories of the faith through wondering, reflecting and exploring.
Throughout their primary years, children are invited to use and interpret Sacred Scripture, to understand more fully their role in the mission of the Church, discover the beauty of God's creation, participate in Prayer, Liturgy and the Sacraments, and to critically think and reflect using Catholic moral and social teaching. Above all else, this is the time when young people come to know how much God loves them, and when they are drawn into a love of God and others.
At a time when society is becoming increasingly secular, with some people even questioning the existence of God, there is a greater need for young people to benefit from a high quality Secondary Religious Education Curriculum that draws on our rich Catholic Intellectual tradition.
Students in Years 7–12 are invited into a deeper and more intimate relationship with God through their exploration of the Scriptures, their participation in personal and communal prayer and their living out of Catholic social and moral teachings.
In response to Jesus' great commandment of love, the Secondary Religious Education Curriculum provides opportunities for young people to 'See, Judge and Act', mindful that Jesus came that everyone might have "life in all its fullness."