An intervention proven to lift the literacy outcomes of struggling readers has helped thousands of young students at Sydney Catholic schools unlock a world of words and make good on the promise of Dr Seuss: "The more that you read, the more things you will know. The more that you learn, the more places you'll go." 
Sydney Catholic Schools have succeeded in lifting outcomes for students who have difficulty reading and writing through the early intervention program Reading Recovery.
In the past four years, the intervention's daily one-on-one lessons have helped more than 4,300 Year 1 students previously in the lowest 20 percent of their class to read and write with accuracy, clarity and confidence.
Data shows more than 90 per cent of these students reach the average of their peers by the end of the maximum 20-week intervention and continue to grow, with Years 3 and 5 NAPLAN results of many students who complete the intervention in the top bands for reading, writing, punctuation, spelling, and grammar.
"These are very high rates that aren't seen in any other system in the world," said Sarah Chick, who together with fellow Reading Recovery tutors Rosemary Peric and Jo Berton adds to the ranks of 563 teachers trained to deliver the intervention effectively across all 114 Sydney Catholic primary schools.
After a maximum of five years in the role, Reading Recovery teachers step out of the role and move back into the classroom to use their expertise with all learners. This investment in teachers makes the Sydney Catholic Schools system unique.
"One of the transformative things that happens for our teachers over the year is that they will come in for training and often there is an excuse – the child is having difficulty because they have this or that issue," Ms Chick said.
"We get them to raise the expectations of themselves and their students and that's when they really start to see the shift [in progress]."
The past five years of NAPLAN data for Sydney Catholic schools also show consistent growth in the students' writing, bucking a trend that saw the NSW average in writing decline to a 10-year low in 2019 tests.
Literacy learnings
Reading Recovery is part of an approach to literacy at SCS that is based on a deep understanding that acquiring it is a complex process. Teachers from Department of Education schools in Sydney have also taken up rigorous ongoing Reading Recovery training with SCS staff after the Department cut funding for the intervention in 2016.
Within a lesson, students read between four and six texts They also sort letters to encourage fast visual discrimination, write their own stories and reconstruct a sentence from them.
High expectations are key to Reading Recovery's success and lead teachers to encourage their students to strive for more than just accuracy when reading.
"It's transformational," Ms Peric said. "It is also really understood that the power is in the expertise of the teacher.
"A year of fortnightly training and lessons behind the screen challenges them to think deeper and gives them a whole new understanding of how children learn to read and write.
"The 30-minute daily lessons are the equivalent of two weeks of full-time teaching – a low price to pay as insurance against literacy problems.
"It doesn't matter what theory you come from, everybody would agree that you have to have comprehension to be reading effectively. If you are just reading words, you are not really attending to meaning."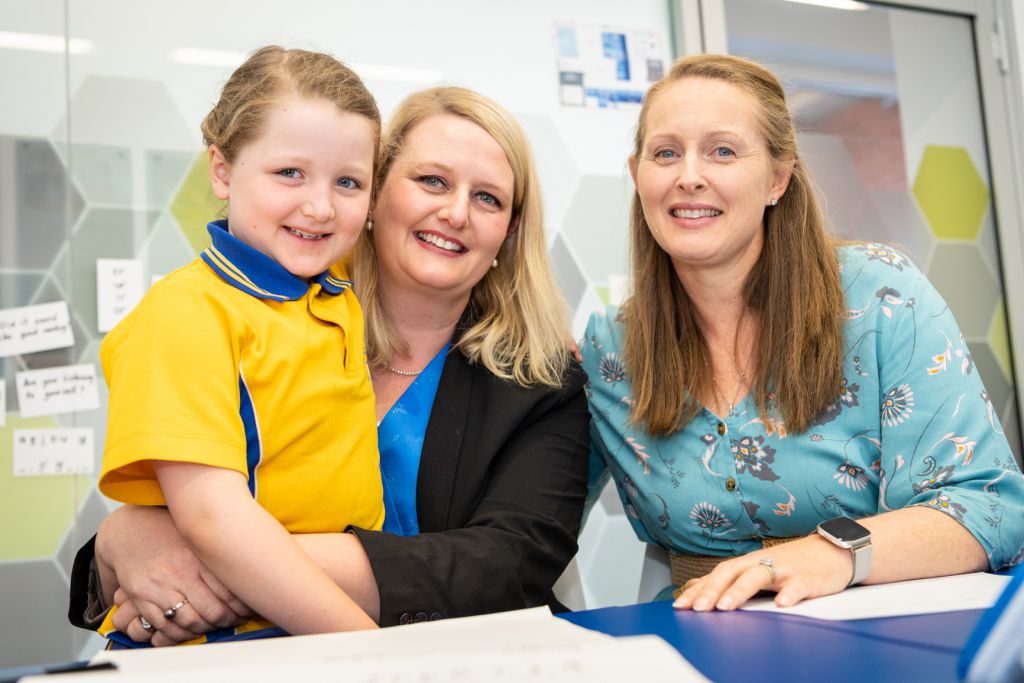 Unlocking a world of words
Reading Recovery has helped Holy Innocents' Catholic Primary School Croydon Year 2 student Molly Doolin unleash her creativity in writing and take charge on family board game nights.
Molly's mother Louise said her daughter's confidence had soared since she and her husband collaborated with Molly's teachers to support her through the intervention late last year.
We've seen an explosion of reading and writing ability for her.
"Before she was anxious to read aloud at home in a larger group," Mrs Doolin said.
"Molly has a very creative mind, and now she is able to express herself with words she may not have been able to say or see before.  Creatively she is able to draw what she is thinking and write a comment next to it. Instead of using just the corner of the page, she uses the whole page now.
"The Reading Recovery intervention has given her those skills to 'give it a go', writing invitations to her friends and notes to her class teacher. We've seen an explosion of reading and writing ability for her. She's very confident now."