Sydney Catholic Schools' first STEM Symposium and Competition has inspired the creation of more than 100 exciting student projects, including a glove that speaks Australian sign language, a robot turtle designed to prevent pollution, and a search engine for those who can't yet read.
Fifteen finalist teams received awards at the first SCS STEM Symposium in November, where parents and STEM educators gathered to see their innovative designs. Each solved problems from the ground up using a range of Science, Technology, Engineering and Maths skills, reflecting the key tenets of SCS Statement on STEM learning launched earlier this year.
The People's Choice Award and Award for Animal Welfare went to the Paraspinomatic 3000 – a hand-held device designed by students from St Ambrose Catholic Primary School Concord West that was successfully trialled at a local agricultural high school.
"We focused on parasites on cattle which are very dangerous and could affect our food chain. Our device uses oil to kill them," said Louis De Lorenzo, who worked with Year 5 classmates Anikan Nguyen and Daniel Nikopoulos. 
Many projects shared this focus on improving the world, a result of the way STEM is thought about and taught at Sydney Catholic Schools.
"STEM is not an add on, it's an essential part of a 21st century learner's toolkit."
Bethlehem College Ashfield's project was more difficult to test in the field. Elizabeth Praum, Winnie Wang and Jessica Chan's 'Solar Wind Sails' device is designed to convert solar and wind energy to electricity which can be sent to earth using microwaves.
"The device is designed to be launched 500km above the earth's surface on the edge of the Thermosphere, where it will be exposed to the sun's corona. At the same time it will still be within the gravitational pull of the earth," said Elizabeth, in Year 9. "We wanted to show the world that there is hope – that the earth won't die yet, we can make new ideas."
A statement in action
Sydney Catholic Schools' recently launched Statement on STEM has led to ongoing education for teachers on how to engage students in creative problem solving using the design process.
The STEM symposium, organised by SCS' K-12 STEM education team, focused on making sure teachers have the tools to develop students' STEM skills in line with the curriculum and best practice. It included keynote speeches from engineer Felicity Furey and educator Shelley Waldon, and workshops to showcase successful school-based programs. 
"STEM Education is essential because it engages students in real world problems – it's relevant, it's meaningful and it's grounded in curriculum," said K-12 STEM Education Officer  Roslyn Mahrous.
"The symposium itself was about our system's journey with STEM to date, from the development of the statement to how it is being implemented in schools. It recognised that STEM is not an add on, it's an essential part of a 21st century learner's toolkit."
"We wanted to show the world that there is hope … we can make new ideas."
Ms Mahrous said workshops presented by educators from St Aloysius' Catholic Primary School Cronulla, Sacred Heart Catholic Primary School Cabramatta and Patrician Brothers' College Fairfield highlighted the schools' great work and partnerships with industry in the STEM space.
"The whole design process is about applying design thinking skills to define a problem, plan possible solutions, create and test prototypes and evaluate throughout the process," she said. "An empathetic learner asks 'where can I make a difference?', and this learning links beautifully with gospel values and our Catholic social teaching. Those real-world problems don't have to be on a global scale, because making a difference, even on a small and local scale is important."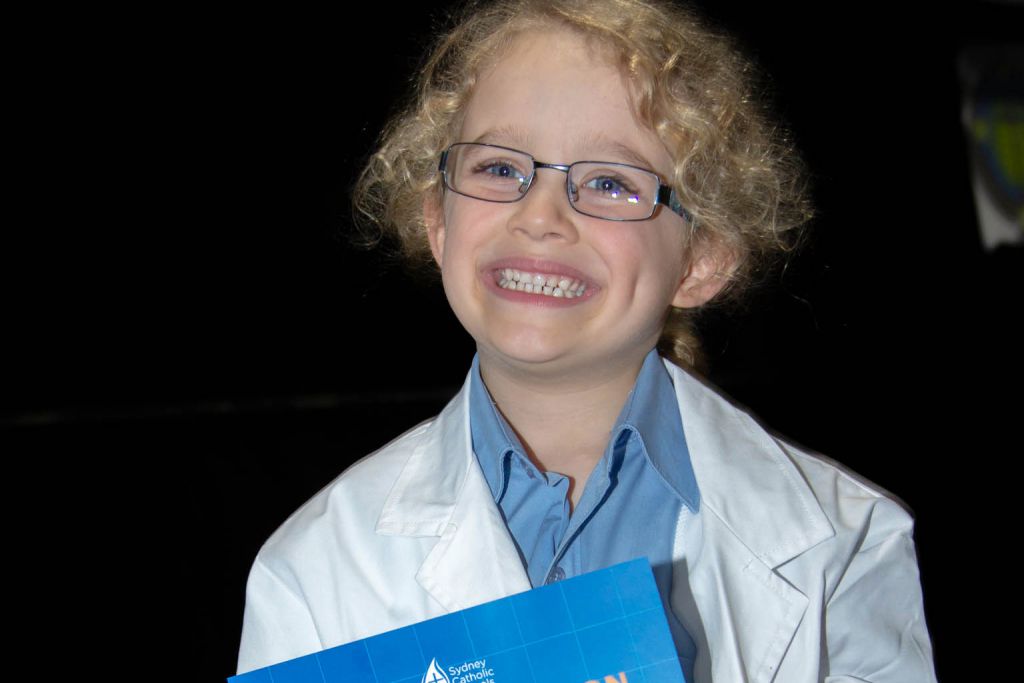 Award winners
Health Promotion Award – The Ultraviolet Fighter
Kevin Ho (Year 6) and Louis Pham (Year 4), Sacred Heart Catholic Primary School Villawood
Community Based Solution Award – Rent and Reduce
Ella Chidgey, Anna Courtney, Darci Noble, Juliette O'Sullivan and Imogen Stockwell (Years 5 & 6), St Mary's Catholic Primary School North Sydney
Award for Best Design Process – Wheelchair Caddy
Jasmine Civardi and Zara Portolesi (Year 5), St Ambrose Catholic Primary School Concord West
Bioengineering Award – The Communicare Glove 
Mykee Kalaquian and Kandice Leung (Year 11), St Ursula's College Kingsgrove
Award for Collaborative Design – Cronulla Water Recycling
STEM extension group (Years 5 & 6), St Aloysius Catholic Primary School Cronulla
Communication Solution Award – Stove Safety
Therese Chidiac (Year 4), Sacred Heart Catholic Primary School Villawood
Young Engineers Award – Solar Powered Desk Fan
Chloe Le (Year 2), St Francis Xavier's Catholic Primary School Arncliffe
Award for Design, Solution, and Testing – Clogger Cleaner
Niamh Foley, Harriet O'Conner and Eve Quinlan (Year 5), St Ambrose Catholic Primary School Concord West
Sustainability Award – Microshower
Scarlett de Luca, Zoe Farr, Sophia Pappas, Lucy Sullivan and Leila Vanderkemp (Years 9 &10), St Clare's College Waverley
Innovation Award – The Toilet Paper Saver
Olivia Doan (Year 4) and Abigail Ma (Year 3), Sacred Heart Catholic Primary School Villawood
Young Ideator Award – Robot Turtle Preventing Pollution
Sebastian Walsh (Kindergarten), All Hallows Catholic Primary School Five Dock
Award for Renewable Energy – Solar Wind Sails
Jessica Chan, Elizabeth Praum and Winnie Wang (Years 9 &10), Bethlehem College Ashfield
Award for Technology-Based Solutions – Ask Me Junior
Dylan Veljanovski (Year 6), St Francis Xavier's Catholic Primary School Arncliffe
Award for Animal Welfare – Paraspinomatic 3000
Louis De Lorenzo, Anikan Nguyen and Daniel Nikolopoulos (Year 5) – St Ambrose Catholic Primary School Concord West
Parish Partnership Award – Enchanted Gardens
Charlotte Harkin, Hannah Khoury and Kiara Sassano (Year 6), Villa Maria Catholic Primary School, Hunters Hill
Viewer's Choice award – Paraspinomatic 3000
Louis De Lorenzo, Anikan Nguyen and Daniel Nikolopoulos (Year 5), St Ambrose Catholic Primary School, Concord West