Three Sydney Catholic Schools graduates have earned a place in prestigious HSC visual arts showcase ARTEXPRESS this year.
From sculpture to hyper-real drawings, the artists share the ideas and challenges behind their dynamic and creative works.
Monique Frasca, Clancy Catholic College West Hoxton
The Impetus Past
See it at: The Art Gallery of NSW until 25 April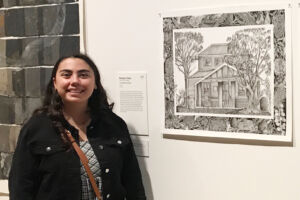 Monique's work features hand-drawn historic houses and explores the ideas of object permanence, absence and presence.
The illustrations are lifted into the present through animation accessed by a QR code.
Monique names philosopher Jacques Derrida, Frankenstein comic book illustrator Bernie Wrightson, American artist Franklin Booth, and Australian artist Rachel Whiteread as influences to her work.
"Derrida coined the idea that objects leave 'traces' of presence, despite their absence," she said.
"With the concept of my work being about the past, I wanted to say 'if these houses could speak, what would they say?"
"I thought it would be a great idea to animate the trees and make it more atmospheric, so you could really be immersed in the landscape where the houses are standing."
"It feels really rewarding to have one year of work contribute to an exhibition people are celebrating and which celebrates art created by youth" – Monique Frasca
Edward Parsons, St Mary's Cathedral College Sydney
The Commute
See it at: The Art Gallery of NSW until 25 April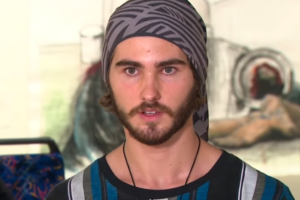 Edward is the fourth student in three years from St Mary's Cathedral College to have his work selected for ARTEXPRESS.
His sculpture of a commuter, 'Bob', is crafted of monster clay and highlights the personal and humorous aspects of the mundane experience of using public transport.
Edward counts realist painter John Brack and Martino Kanasugi, another former St Mary's Cathedral College art student, as influences.
"I knew I'd find the sculpting process as fulfilling as the end product," he said.
"I also thoroughly enjoyed dressing 'Bob' to be, in my eyes, the most fashionable man for his age.
"I really owe everything to my teacher and fellow pupils who helped to progress my artwork's identity."
"I want audiences to be amazed and shocked, to come to their own conclusions, and to not have to consider politics, social issues, or other depressing matters that our world unfortunately contains."
"I like art to be an escape, an unexpected avenue for me to explore and express" – Edward Parsons
Monica Jornales, Aquinas Catholic College Menai
Ingredients of a Ceremony
See it at: The Bank Art Museum Moree, 16 April – 25 June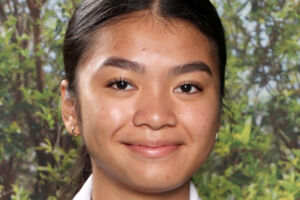 Monica's prismacolor drawings of a Japanese tea ritual were inspired by contemporary artists C.J. Hendrey and WanJin Gim.
The series has a hyper-real quality that took patience – and some risk – to produce.
"If you make one mistake with burnishing the drawing too quickly or adding too many layers too fast, it completely ruins it," she said.
"I tried to explore the significance of each individual aspect of the tradition: the ritual, the tools, the tea itself and gestures and actions practised within the ritual."
Monica's interest in STEM led her to choose a medical science degree, but she says art remains a firm interest.
 "My teachers at Aquinas have always encouraged me to pursue my interests in a balanced way, regardless of how different they are," she said.
 "Ever since I was 12, ARTEXPRESS was a dream I've aspired to so receiving the email left me in a state of euphoria" – Monica Jornales