The inaugural 10:10 Project Conference drew a huge crowd of more than 700 students and staff to Bicentennial Park.
Titled Life to the Full, the conference focused on the importance of making positive life choices and not feeling pressured to conform to society's expectations.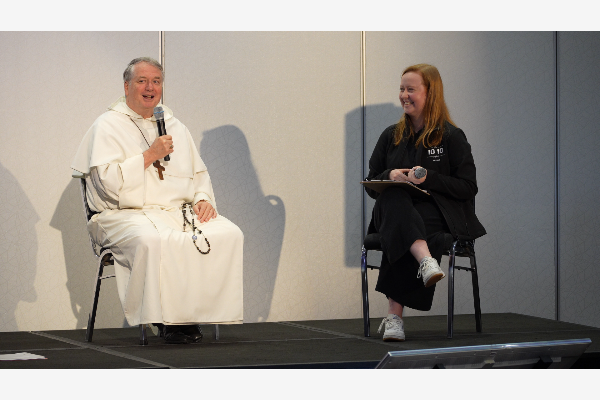 Attendees heard from Archbishop Anthony Fisher; Melinda Tankard Reist (author, speaker, media commentator, blogger and advocate for women and girls); Sister Cecilia Joseph (a Sydney-based Dominican Sister of St Cecilia); Paul Pham (a youth minister at the Parish of Baulkham Hills); and Tomasz Juszczak (the Director of Evangelisation for the Diocese of Broken Bay).
"The 10:10 Project addresses the sacred, the emotional and the controversial, with the courage to address these topics in a non-threatening way," Archbishop Anthony Fisher OP said.
Students walked away from the conference feeling energised and inspired to improve their lives and put into practice what they had heard.
"I am so proud of them," Archbishop Fisher said.
Jacob Gerolimatos, from Patrician Brothers' College Fairfield, said the 10:10 Project had given him "a deeper understanding of manhood and about being a better person for myself and for others." 
"The wonderful thing about the 10:10 Project is it gives young people a nobler, richer and more expansive view of themselves and what they can do, and knowing and loving Christ is key to that" – Archbishop Anthony Fisher OP
About the 10:10 Project
Launched in 2020 as a pilot involving three schools, the 10:10 Project is now offered in 17 secondary schools across the Catholic Archdiocese of Sydney.
The program aims to deepen students' understanding and appreciation of the Catholic Church's teachings on the human person and vocation, with a strong emphasis on marriage and family.
During the program, students attend a series of school-based workshops twice a term and Parish-based events once a term, led by qualified facilitators, during which they are encouraged to look at the world through a faith-based lens.
Session topics include:
Who Are You?

Love Defined

Truth and Freedom

Language of the Body

Authentic Masculinity/Authentic Femininity

Free, Total, Faithful, Fruitful

Hope and Redemption in Christ
Participating students will attend a two-day retreat at the Benedict XVI Retreat Centre in Grose Vale from 1-2 December, 2022.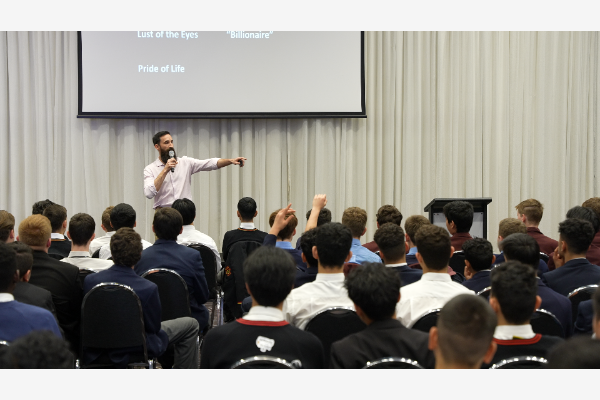 "It is hoped that through the 10:10 Project that Sydney Catholic Schools can play a vital role in building a generation of young people who build stronger, permanent marriages in their adult lives," said Sydney Catholic Schools' Education Officer: Church Engagement and event organiser, Dominique Farah.
"The 10:10 Project is also SCS' response to the issue of consent. As Director of Mission and Identity, Dr Anthony Cleary, stated last year: 'Many young people do not properly understand what 'consent' is and what it involves. They sometimes fail to see that it fundamentally safeguards personal boundaries and the development of respectful relationships.'"
"The 10:10 Project aims to help young people 'live life to the full' by reminding them of their purpose, worth, respectful relationships and how the Catholic faith provides the compass for a virtuous life" – Dominique Farah 
Mrs Farah hopes students will take what they learn in the 10:10 Project seminars into their everyday life.
The 10:10 Project takes its name from John 10:10, "I came that they may have life and have it to the full."
The program is supported by the archdiocesan Evangelisation Project; Sydney Catholic Schools' Life Committee; The Culture Project Australia, Life, Family and Marriage Office; and Sydney Catholic Youth.