A fun in-school coin challenge has helped raise nearly $1000 for Project Compassion, while teaching students the benefits of giving back. 
Students in all six houses at Mount St Joseph Milperra dug deep in their pockets for the Caritas Australia annual appeal raising much-needed funds for people living in poverty.  
Part of the challenge was to also see which house could make the longest coin line with its donated coins.
For the third straight year Penola had the longest coin line, which is apt considering their House value is Hospitality.
Together Penola raised $313.75 in various coin denominations. 
"The school spirit really ignites when our school leaders roll up their sleeves and start the line up," Amelia Ayoub, the Youth Ministry and Social Justice Coordinator at Mount St Joseph Milperra, said.
'The donations keep getting better each year'
Currently the Guinness World Record for the longest line of coins measured 75.24 km and was made by pupils of BRG/BORG Kirchdorf in Austria, along with parents, teachers and volunteers, on 9 December 2011.
While students at Mount St Joseph did not break any records, they have outdone each other year on year with donations.
"The donations keep getting better each year and that's because the school absolutely loves getting involved to support those in need," Ms Ayoub said. "This initiative has been a long-time favourite with the students at Mount St Joseph."
"One enthusiastic Penola student donated $50 worth of 5 cent coins to ensure Penola had a really, really long line!" – Amelia Ayoub
Putting Catholic education into action
"Our students are pretty good at understanding why they should donate," Ms Ayoub said.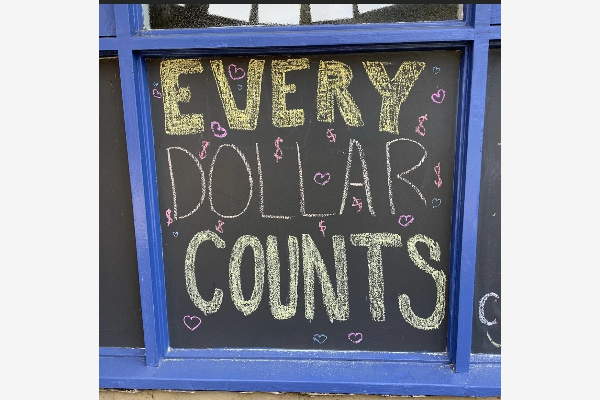 "It is the essence of our Josephite Charism to 'Never see a need without doing something about it'. This quote really resonates with the school community as it best reflects our Patron, St Mary of the Cross MacKillop." 
In fact, the school's house system – Penola, Tenison, Mackillop, McCormack, Landers and Fitzroy – represents its Josephite Charism.
"Being in this role for a few years now has made me realise that our girls both work hard in the classroom and work hard to showcase the Josephite Charism, of always helping others in need" – Amelia Ayoub 
"Throughout the year, we have various initiatives that really allow the girls to put their Catholic education into action," Ms Ayoub said.
"Another example of this is our breakfast society – known as the SIMs (Sister Irene McCormack Society) – where we sell toast and milkshakes Tuesday to Friday all year round. 
"All money raised during this breakfast society goes towards various charities. such as Project Compassion, St Vincent de Paul Society, CatholicCare and the Josephite charity House of Welcome."