St Joseph's Maroubra Kindergarten Class of 1971's childhood recollections will have you fondly recollecting your days in the old schoolyard.
Sixty Kindergarten Kangaroos and Kindergarten Koalas attended St Joseph's Maroubra way back when, and nearly 20 came together on 6 February 2021 to celebrate 50 years since they first started school together.
Some stayed for nine hours reminiscing and storytelling, and are now planning to have annual catch ups.
Reunion organiser Monica Scanlon (nee Smith), a former teacher at St Mary's Star of the Sea Catholic Primary School Hurstville, looks back on the reunion and reflects on her days in the old school yard.
As the students took a walk around the perimeter of the school, they recalled lunch times spent playing marbles, fly (jumping over sticks lined up in the playground), elastics (jumping over elastic which was held up by a student at either end), skipping with a big skipping rope or kicking the football.   
It was amazing to hear Vicki McLachlan, one of the Year 4 teachers who attended the reunion, be able to look at faces and remember the names and stories of students she taught 45 years ago.  
Great laughs were had at the old Globite brown school briefcase that was brought along. Although somewhat worn and unable to fully lock, it created much discussion as it was complete with stickers of the day. 
Only a few students still had this treasure from their early school years.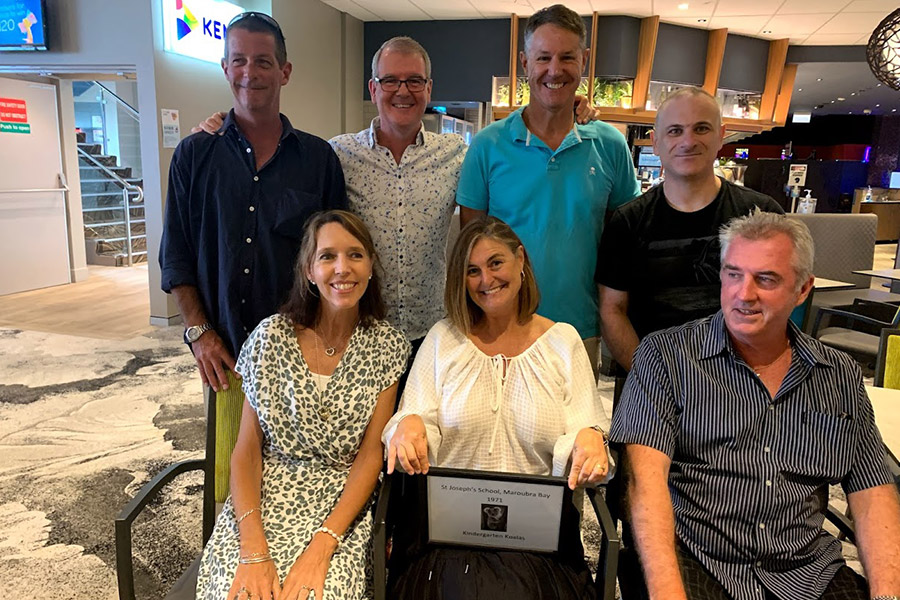 SCHOOL LIFE IN 1971 
Fifty years ago, school was very different to today.
Each morning milk was delivered to the school in small glass bottles with foil lids for the students to drink.
There were lots of comments made (at the reunion) about the milk being hot, as it was left out in the sun after delivery. 
The joy of winning the weekly cake raffle was discussed, as were the types of cakes made by their mothers.         
Memories were shared of plays put on at lunchtime, papier mache, artworks and singing along to the radio each week using the class Sing Sing books. 
Breaking into songs their brains thought had long been forgotten, brought back memories of their days together.
It was a source of great hilarity that the students who could rattle off the phone numbers of their peers from all those years ago.
The highlight of the big library bus coming to the school for weekly book borrowing was a happy memory for many.  
A SHARED BRIGIDINE HISTORY
Fifty years ago, the Principals of the school, and some of the staff, were Brigidine nuns.
The Brigidine motto of "Fortiter et Suaviter" was displayed at the reunion.
The motto, meaning "Strength and Gentleness", was sometimes referred to in their years at school as "Strength and Kindliness."
"Some students commented that the Brigidine motto of 'Fortiter et Suaviter' has been a motto they have carried with them through their lives"   
WHERE ARE THEY NOW?
Two of the students work in the Sydney Catholic Schools (SCS) network of schools.
It was lovely for Karen Begaud (nee Gollan) to share her experiences with her cohort, as she had returned to St Joseph's/St Mary's and taught there for over 20 years.
Currently, Charlotte Buxton (nee Wicks and St Mary's Maroubra's Vice Captain in 1977) is the Year 12 Co-ordinator at nearby Champagnat College.  
One of the members of this cohort, Anthony Bastic, created the Sydney light show experience Vivid and the Christmas light show at St Mary's Cathedral.
Another, Michael Daley, is the local Member of Parliament.
Other professions the students pursued were midwifery, accounting, architecture, chiropractic, preschool teaching, singing, nursing, health and safety consulting, banking/finance, wharf workers, technology, and airport workers.
Out of this group of students (1971-1977), many stayed in the local area. Others live all over NSW and some are interstate.
Canberra was the furthest someone travelled to be at the reunion.
Cathy Furner left the area in Second Class, so had not seen her former classmates since she was eight years old – that was 47 years ago!   
PAUSE FOR REFLECTION
A candle was lit for the duration of the reunion in memory of those staff, parents and students who had been part of the primary school journey but have since passed away. 
The 1977 Year 6 school captain, Monica Scanlon (nee Smith), who organised the reunion said: "It was fun, as everyone was so keen and excited to get together."
"It is with big gratitude that we thank our parents for sending us to St Joseph's and St Mary's," Monica said. "Beautiful friendships were formed – some of us have kept in touch all these years and some have been rekindled just now. How blessed we are to have had such lovely memories made back then and now at this reunion."